I've made chocolate tarts before but I was inspired to up my game by some of the amazing pastry chefs on Instagram like Aumaury Guichon and Topless Baker. I bought a couple moulds for nice domes and a set of perforated rings for baking the perfect tart shells. The whole process was so much easier than I imagines and I loved the result!
Those fancy french tarts you've seen around are much easier to make than you imagined! The best part is that they're TOTALLY delicious and destined to impress your guests.
How do you make a perfect tart shell?
You don't need all the fancy tools a professional baker has in order to make a beautiful tart shell. Here are some tips:
Roll your pastry to 1/8 an inch thick between two sheets of lightly floured parchment paper. Thin dough is VERY important.
Chill your dough for a few hours, make sure it's completely covered so it doesn't dry out.
After you form your tarts it's time to freeze them. You can do this in advance if you're busy and need to get out of the kitchen.
Those perforated rings are pretty impressive and basically necessary if you're trying to make the perfect cylindrical shell, but they are not cheap. A regular tart shell can be used for delicious results but you'll have to do some blind baling with beans/pie weights.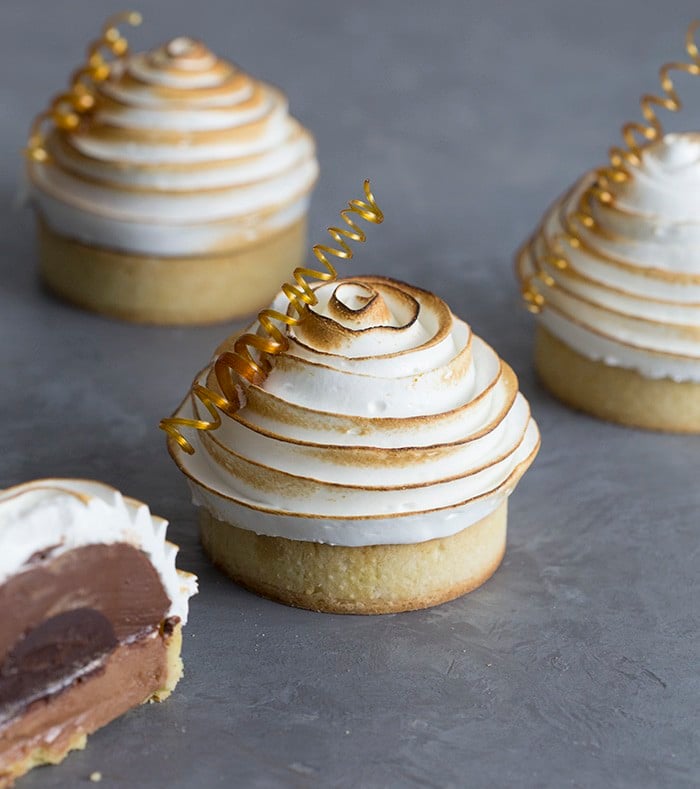 How do you make the chocolate dome?
I bought some silicone molds online but you can use any bowl with about the same diameter as your tart. Line the bowl with plastic wrap before adding the custard. Freeze and remove, and place on your tart. It won't look perfect but it all gets covered in meringue anyways, so no one will know!
Steps to assemble this chocolate tart

How do you assemble a chocolate tart?
Start off by pouring the chocolate custard into the silicon disc molds.
Carefully push the hardened ganache in the center of the chocolate custard filled molds, then freeze them for 3 hours.
Cut out the circles of the chilled dough using your tart ring. You can re-roll the excess dough for another use if you need to.
Using a sharp knife, cut long strips of dough about 7 to 8-inches long and 3/4-inch wide.
Carefully lift the strips and place them on the inside of each tart ring. Press them against the sides so they are flush with the dough at the bottom.
With a sharp knife, cut off any excess pastry hanging over the top of the tart rings. Place them in the freezer for 30 minutes to 1 hour then bake for 16 minutes at 320 degrees F.
Once your tarts have finished baking and have had 10-15 minutes to cool, you can pipe in your filling then smooth it out.
Now, carefully place your frozen, chocolate custard domes on top of the filling.
Using a small petal tip, pipe the meringue on the dome starting at the top and spiraling down until you reach the tart shell.
Go ahead and toast the meringue a bit by giving it a little torching action.
You can top this tart with many things, I chose to make a sugar spiral. If you want; heat sugar up over medium heat until golden. Wait a bit until the sugar thickens up but is cool enough to touch. I used a long paint brush to twist the sugar around.
Place your sugar spiral or whatever garnish you may choose; gently on top of the tarts and enjoy!
If you've tried this chocolate tart then don't forget to rate the recipe and let me know how you got on in the comments below, I love hearing from you!
Print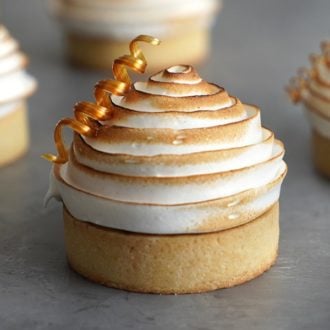 Chocolate Tart
This ultra-decadent chocolate tart has a Nutella cream base, a chocolate custard dome with a ganache core and a swirl of toasted meringue on top!
Ingredients
Tart shell
160

g

confectioners sugar

6

Large Egg Yolks

1

tsp

vanilla paste

5mL, not extract

1

lb

plain flour

450g

1

cup

unsalted butter

226g, cold & cubed

¼

tsp

salt

1g, heaping
Filling
1

cup

2 sticks unsalted butter, room temperature

226g

2

cups

powdered sugar

250g

2/3

cup 

Nutella or other chocolate-hazelnut spread

2

tablespoons

heavy whipping cream

30mL

1

teaspoon

pure vanilla extract

5mL

Pinch

salt
Ganache Center
1

cup

Heavy Cream**

236g

1 1/2

Tsp

Vanilla Paste

7mL

4.5

g

Platinum Gelatin Powder

27

g

Cold Water

60

g

White Chocolate**

Finely Chopped

2.5

Tbsp

of Instant Coffee Granules
Chocolate Custard Top
1/4

cup

Whole Milk**

60mL

200

ml

Double Cream

175

g

70% Dark Chocolate

2

Large Eggs

1

Tbsp

Caster Sugar
Swiss Meringue
5 

egg whites at room temperature

1 ½ 

cups 

granulated sugar

300g

1 

pinch 

kosher salt

1 

tsp 

vanilla extract

5mL
Instructions
For the Tart Shell
In the bowl of a stand mixer, or in a medium bowl (if you're using a hand mixer), add the icing sugar, butter, vanilla & salt.

Beat the mixture for 2 minutes on a medium speed until it forms a paste. Scrape down the bowl after 1 minute.

Finally, add in the flour, and very gently mix this in with your mixer on a low speed until it is just combined and all of the flour is incorporated. The mixture should look crumbly but should not form one giant ball of dough.

Tip the mixture onto a lightly floured surface, and split the dough into three batches.

Place a large sheet of parchment paper down, lightly flour it, and place one batch of dough on top. Lightly flour the dough and then place another large piece of parchment paper over the top.

Roll the dough out with a rolling pin until it is about 3mm (be careful it's not too thick) and roughly into the shape of a circle.

Lift up the side of the parchment paper and check the thickness before placing the whole sheet of pastry in the fridge for 30 minutes. Repeat this with the second batch of dough.

Once the dough has chilled remove one sheet from the fridge. Peel off the top sheet of parchment paper, very lightly flour the pastry, then flip it over onto the workbench.

Peel off the remaining sheet of parchment paper and lightly flour the dough again so the dough doesn't stick. Lift the pastry onto your baking tray lined with a silicon/perforated mat.

Using a 4.5" round perforated tart ring (or any tart ring you have) cut out 4 large circles of dough. Peel off the excess dough around the edge (you can re-roll this for another use).

Remove a second sheet of dough from the fridge for the walls of the pastry cases. Using a sharp knife, cut long strips of dough about 7-8" long and ¾" wide.

Lift the strips and place them on the inside of the tart rings, pressing them against the side so that they are flush with the dough at the bottom.

If your pastry doesn't quite fit all the way around just cut another piece. Press the bottom of the dough gently with your fingers to mold it to the base piece of dough.

With a sharp knife, holding it completely horizontal, cut off any excess pastry hanging over the top of the tart rings.

Place the tart shells into the freezer for 30 minutes to 1 hour.

Just before the hour is up, pre-heat your oven to 320F with a fan or 350F for non-fan. Place the tray with your tart shells in the oven. Bake for 16 minutes or until the shell is lightly golden.

Remove tart shells from the oven and allow time to cool (10 to 15 minutes) before piping the filling so it does not melt.
For the Filling
Whip the butter for about 5 minutes using a paddle attachment (in a stand-up mixer) Add the salt.

Beat in the confectioner's sugar slowly.

Add the Nutella and increase speed to medium. Mix until incorporated.

Add the cream.

You may add the optional vanilla at this step. 

Mix until you have a fluffy, even consistency.
For the Ganache Center
Pour powdered gelatin into a small saucepan with the cold water. (It's important here to use platinum gelatin and measure the water precisely)
 
Allow that to sit in the pan for 10 minutes.
 
After, place cream into a medium saucepan along with vanilla paste & coffee granules.

Meanwhile, place the saucepan of gelatin over low heat. Just enough to melt the gelatin, not boil it. Remove from heat once melted.

Once the cream is hot and steaming (not boiling), pour the melted gelatin in, whisk together very quickly, then immediately pour the mixture over the finely chopped chocolate.
 
Blend the chocolate mixture for half a minute if you have a stick blender. If not, allow it to sit for 3 minutes then whisk until smooth.

Place cling film on the surface of the cream and chill in the fridge for 4 hours.
Chocolate Custard Top
Finely chop the chocolate and place it into a medium bowl with a sieve placed over the top. Set it aside. 

Place the eggs and the sugar into a bowl and whisk for about 2 minutes, until the mixture is lighter in color and slightly thicker.

Pour the milk and heavy cream into a saucepan over medium heat. As soon as it starts to steam, slowly pour it over the eggs whisking constantly as you slowly pour.

Pour the entire mixture back into the pan (still on a medium heat) and whisk it constantly until the mixture reaches an internal temperature of 167F. (If you don't have a thermometer, whisk for about 45 seconds.

Pour the mixture over the sieve, onto the chocolate. 
 
Whisk everything together until it is smooth and all of the chocolate has melted. 
 
Carefully pour the mixture into 4 x 4.5" Silicon Disc molds and freeze for 3 hours minimum.
For the Swiss Meringue
Add egg whites, sugar and salt in a bowl.

Give the mixture a brief whisk.

Place the bowl over a pan of simmering water. Make sure the water does not touch the bowl.

Whisk the egg whites occasionally while it warms up. When the mixture has warmed, whisk it constantly.

You will heat the mixture until it reaches an internal temperature of 160ºF or until it's not grainy between your fingers. 

Transfer the bowl to a stand mixer, mix with a whisk attachment until you get room temperature glossy peaks.
Sugar Spiral
heat 1 cup or 200g of sugar up over medium heat until golden. Wait until the sugar thickens up but is cool enough to touch.

I used a long paint brush to twist the sugar around but you can use any cylindrical tool that allows you to slide the spiral right off.

Using a fork, wrap the sugar around the tool to create a spiral. Wait a moment then gently remove the spiral.

Place your sugar spiral or whatever garnish you may choose; gently on top of the tarts and enjoy!
Recipe Notes
TART SHELL NOTE
If you are using perforated rings you shouldn't need any baking paper or baking beans, but if not, it might be advisable to use baking beans to blind bake the tart.
During the first few minutes of baking keep a close eye on the pastry - if any of the pastry starts to slip down the tart ring or fall out of place, just pull the pastry out of the oven and carefully press it back into place with your finger and it should stay there.
CHOCOLATE CUSTARD TOP NOTE
If you don't have one, you can improvise by lining a tart ring with acetate and freezing it in that, or freeze the mixture in a large tray then cutting out circles once it is frozen - you might just need slightly more mixture if you do it this way though. 
Nutrition Facts
Chocolate Tart
Amount Per Serving (1 tart)
Calories 1322
Calories from Fat 540
% Daily Value*
Total Fat 60g 92%
Cholesterol 189mg 63%
Sodium 203mg 8%
Potassium 158mg 5%
Total Carbohydrates 187g 62%
Protein 10g 20%
* Percent Daily Values are based on a 2000 calorie diet.
Pâte Sablée adapted from toplessbaker.com
IF YOU LOVE THIS RECIPE TRY THESE OUT!