I love EVERYTHING about these tarts. I bet that you will, too. The lemon curd perfectly balances the sweet-tart ratio. The crust's flavor has a hint of almond. This dessert's meringue is also out of this world. Let me know if you agree!
Print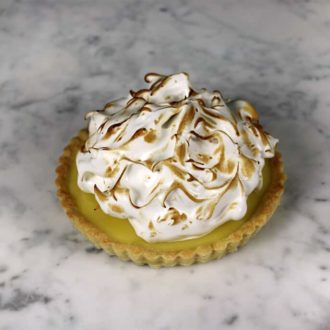 Lemon Meringue Tarts
Fresh, zingy lemon curd, lots of toasted meringue and a crispy pastry crust.
Ingredients
For the Crust
3

large egg yolks

1/4

cup

heavy cream

2

cup

all-purpose flour

3/4

cup

almond flour

1

cup

2 sticks chilled unsalted butter

cut into 1/2-inch cubes

1/4

cup

plus 3 tablespoons sugar

1/4

tsp

kosher salt
For the Curd
4

lemons

at room temperature

1 1/2

cups

sugar

1/4

lbs

1 stick unsalted butter

at room temperature

4

extra-large eggs

at room temperature

1/8

tsp

salt
For the Meringue:
4

egg whites

1/4

tsp

cream of tartar

3/4

cup

3 tablespoons extra fine sugar
Instructions
Whisk the dry ingredients together.

Pulse the cold butter and the dry ingredients in a food processor until you get small crumbs.

Add the yolk mixture and stir until just combined.

The finished mixture should look like this. Divide into two portions, form into disks and wrap in plastic. Chill for at least and hour.

This will change depending on the form you use but roll out the chopped dough on a well floured surface (or roll it between two layers of cling wrap). Then press the dough into your form and trim the edges if desired. I used pastry weights for the first 10 minutes, removed them and docked the bottom with a fork, then continued baking. Bake for about 15-20 minutes at 350f. Allow to cool.

Zest the lemons.

Juice and strain the lemons.

Add the sugar and lemon zest into your food processor to blender and plus until the zest is very finely chopped.

Add the eggs one at a time while mixing at medium speed.

Add about 1/2 cup of lemon juice and salt and mix until combined.

After about 15 minutes of constant string over medium low heat the curd finally came together and thickened. It was a miracle.

Spoon the warm lemon curd into the tarts. Chill for an hour before adding the meringue.

Mix the egg whites at high speed, add the cream of tartar and then slowly add the sugar and mix until you get soft peaks.

I tried piping but that's not enough meringue per tart.

My favorite part of this was torching the meringue. As you can see I chose to pile on the meringue.

Here is the finished result, you can chill or serve immediately.
Nutrition Facts
Lemon Meringue Tarts
Amount Per Serving
Calories 200
* Percent Daily Values are based on a 2000 calorie diet.
Immediately, as in right now!