How to Make Deviled Eggs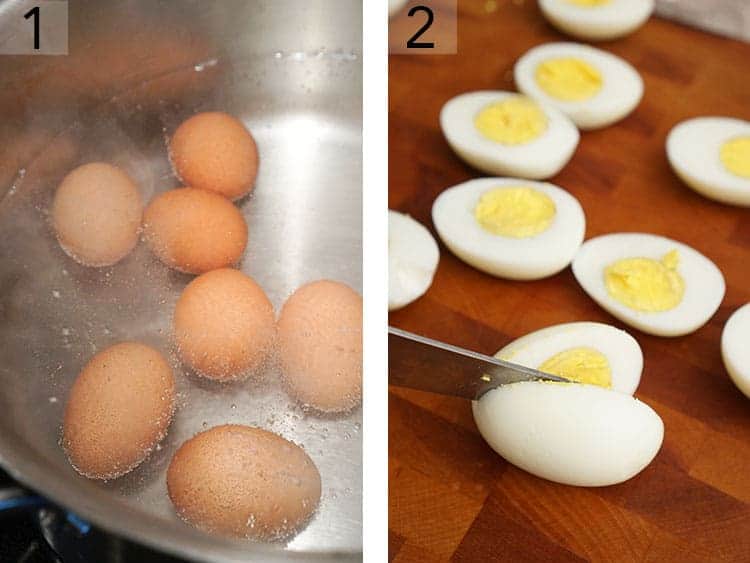 1. Place your eggs in a pot and fill with water until they are submerged by 1/2 inches. Add the salt and vinegar then place over medium-high heat and bring to a boil. Boil for seven minutes then transfer the eggs to an ice bath.
2. Peel the eggs then give them a quick rinse to remove any small shell fragments and cut in half.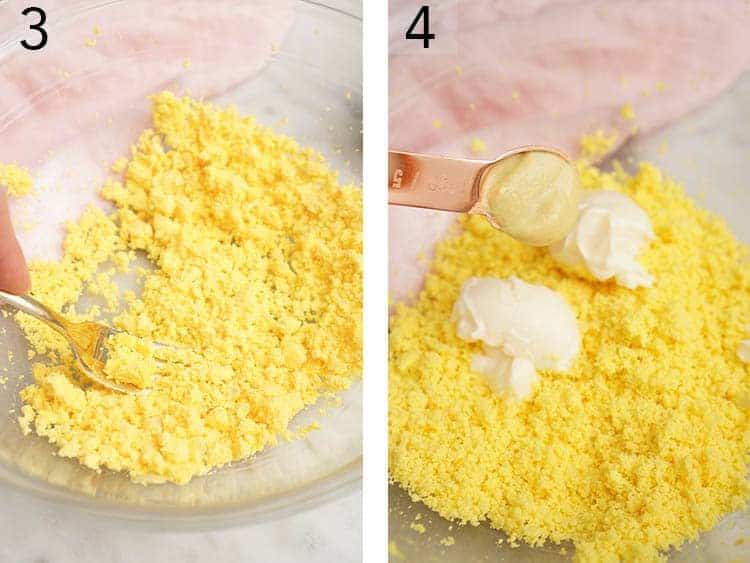 3. Pop the yolks out and transfer to a bowl then mash with a fork.
4. Add the mayonnaise and mustard then whisk to create a paste.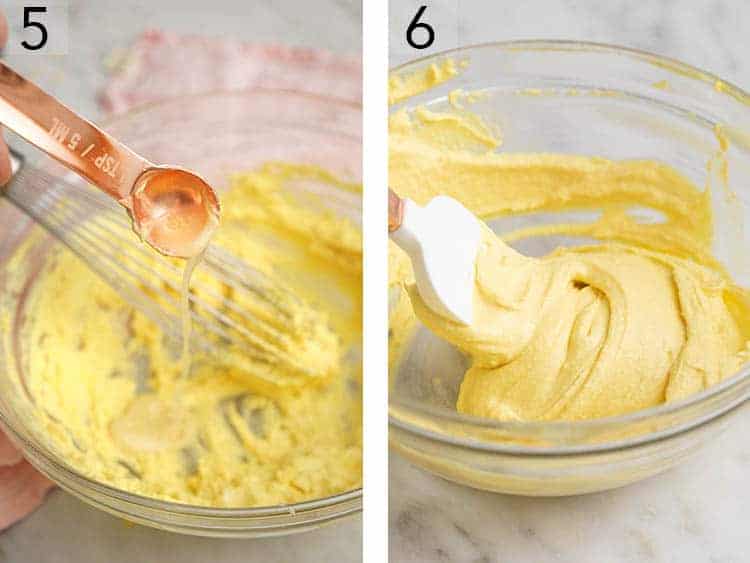 5. Pour in the lemon juice and whist once more.
6. If your filling looks a bit chunky you can push it through a sieve and what comes through will be nice and silky smooth.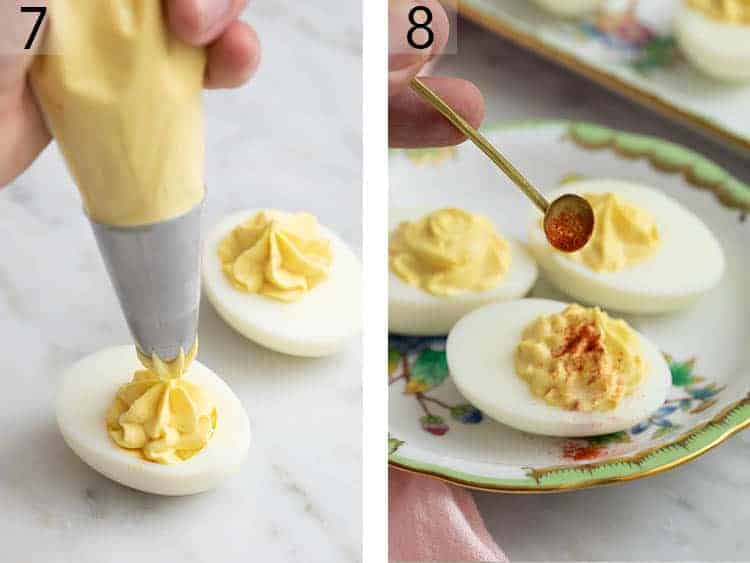 Pro Tips for the BEST Deviled Eggs
Start off by boiling those eggs until they're JUST hard boiled. if you over cook the eggs the yolks will become rubbery and grainy.
Use a nice dijon mustard. it has a note of horseradish that really wakes the whole thing up.
If you like things less spicy you can sub in a honey mustard or yellow mustard.
Adding sliced of pickle, crumbled bacon, or even caviar are all excellent ways to personalize your appetizer.
If you're not a fan or mayo then sub in sour cream or an equal amount of ripe avocado.

Frequently Asked Questions
Can you make them the day before?
This is a great make ahead dish. Store the filling and egg whites in separate airtight containers then assemble before serving.
How long do they last for?
Deviled eggs will last for three days in the refrigerator but if you're planning on making them ahead of time I highly suggest keeping the filling and whites in separate containers then filling them just before serving.
Why are they called deviled eggs?
In the 18th century the term "deviled" was a popular way of referring to things that were spicy. Earlier recipes for deviled eggs had more mustard and pepper in them and so were hot enough to earn the moniker deviled!
Are they good for you?
There are under 60 calories in deviled eggs and have a good amount of protein and vitamins in them however the healthier thing to do would simply be to eat a plain hardboiled egg.
How do I Get the Creamiest Filling?
Don't over-cook your eggs, this will create hard bits of yolk that won't mix in.
Strain your completed filling through a sieve. Push it through with a spatula then scrape what comes through with a knife. Give it one last whisk and it's ready to pipe!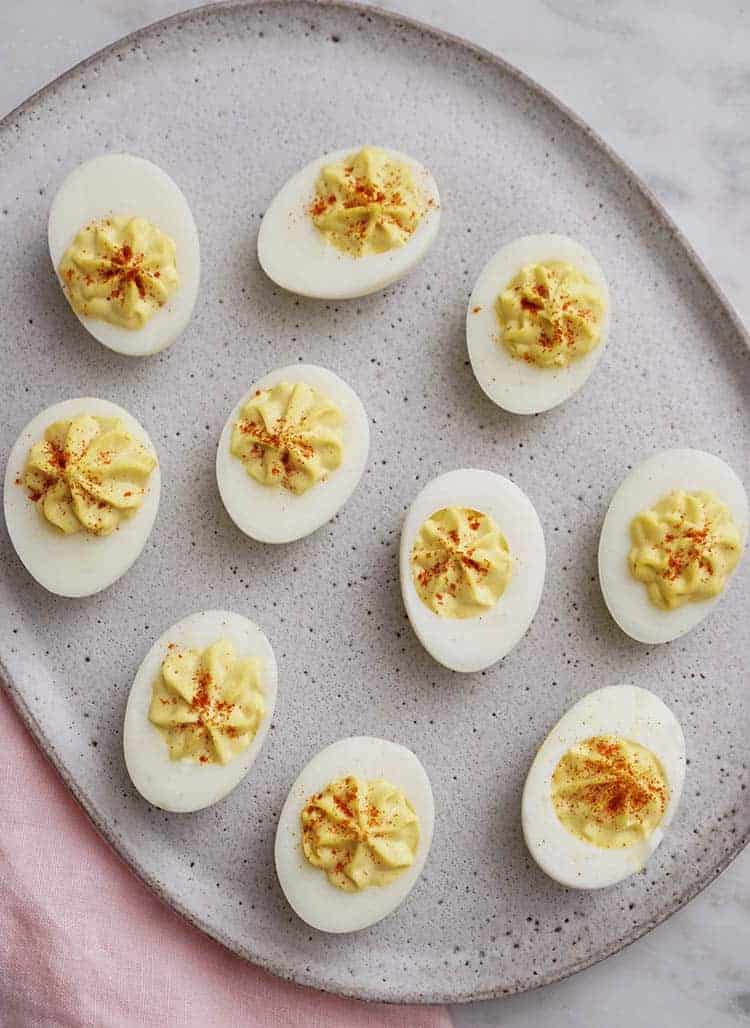 If you've tried this deviled egg recipe then don't forget to leave a rating and let me know how you got on in the comments below, I love hearing from you!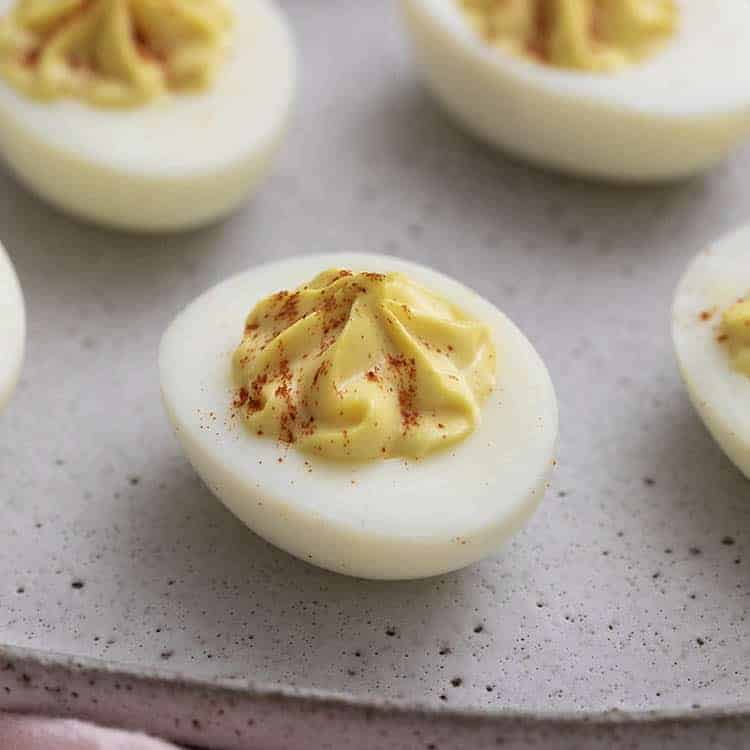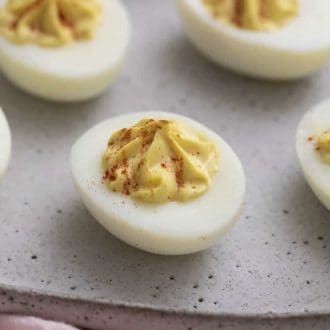 Print
Deviled Eggs
A quick and easy appetizer that's sure to please and totally delicious!
Ingredients
6

eggs

large

3

tbsp

mayonnaise

1 1/2

tsp

dijon mustard

1

tsp

lemon juice

1

tbsp

sour cream

optional

2

tsp

salt

for the boil

2

tsp

white vinegar

for the boil
Instructions
Place the eggs in a pot with two teaspoons of salt and two teaspoons of vinegar then fill with enough water until the eggs are covered by 1-2 inches. Bring to a boil over medium-high heat and allow to boil for 7 minutes then transfer to an ice bath to cool.

Peel the eggs and cute in half.

Transfer the yolks to a bowl and mix with the mayo, mustard, and lemon juice. You can add salt and pepper to taste at this point if desired.I added a tablespoon of sour cream but you mat want a stiffer filling, I find the sour cream adds a nice mouth feel but it's optional

Either spoon the filling into the eggs or pipe the filling in with a star tip. Sprinkle with paprika and serve. Minced herbs or crumbled bacon can also be added if desired.
Video
Nutrition
Serving:
1
egg
|
Calories:
58
kcal
|
Carbohydrates:
1
g
|
Protein:
3
g
|
Fat:
5
g
|
Saturated Fat:
1
g
|
Cholesterol:
84
mg
|
Sodium:
61
mg
|
Potassium:
30
mg
|
Sugar:
1
g
|
Vitamin A:
125
IU
|
Vitamin C:
1
mg
|
Calcium:
13
mg
|
Iron:
1
mg
*
Nutrition Disclaimer