It's a bird, it's a plane, it's a giant pumpkin cake! OK first off I know many of you won't have time to go all out and make an almost real looking pumpkin, but that's OK! Just make the cake and serve with the glaze of your choice, slather it in cream cheese frosting, or eat it plain!
If you want to go for added realism then whip up two batches of buttercream in similar shades of orange. Cover your pumpkin in one batch and begin shaping it. Pop it into the fridge and let it chill to harden, then add highlights or lowlights (your choice) on the pumpkin's ridges and smooth them out to blend. I have a couple of things to say about the stem. At first I tried to make one by covering an inverted cupcake in green buttercream and then sculpting. It looked OK but kind of cartoonish and out of proportion. I ended up mixing up a very thick batch of buttercream and rolling it into the desired shape then carved away at it, added some brown streaks and an off-white top the result was significantly more realistic and easier to make. Your third option is to shape one from fondant.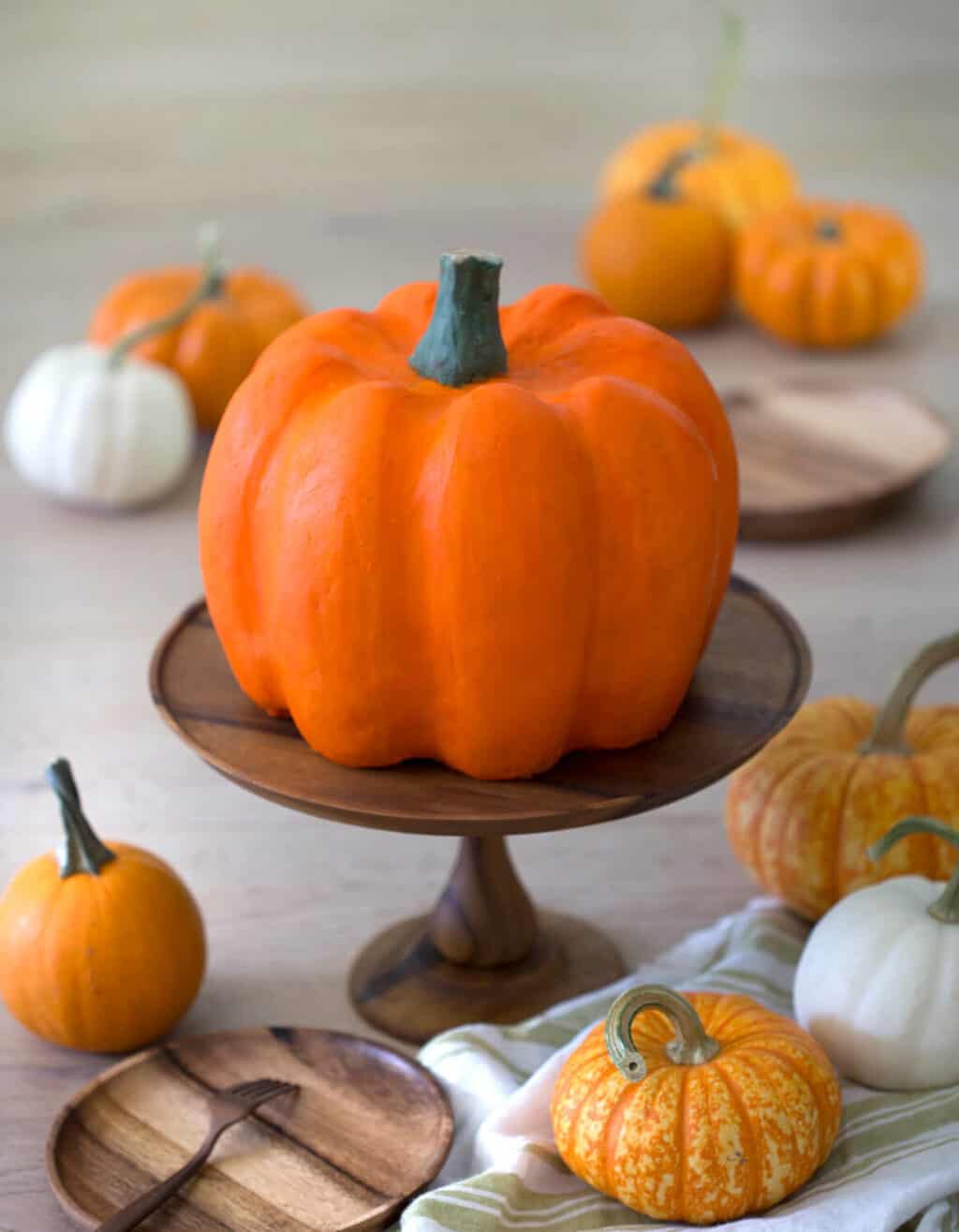 So hear's the secret to smoothing a crazy shape coated in buttercream. First make sure you chill the cake once it's frosted. To smooth it I used the back of a spoon and a yogurt container that I cut into a half circle shape. (you can see this in my video at the bottom of the page. ) When you're doing the final smoothing on your chilled cake get a cup of HOT water and dip your spoon in it regularly. This will allow it to glide over the surface and not gouge into the cake.
Print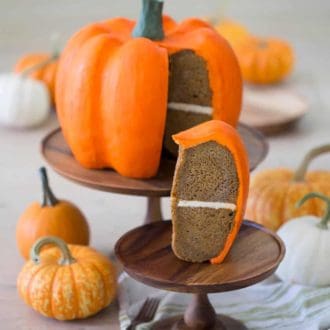 Pumpkin Bundt Cake
This pumpkin cake just might be the ultimate holiday centerpiece!
Total Time
1
hour
20
minutes
Ingredients
For the Cake
3

cups

pumpkin puree

4

tsp

cinnamon

4

tsp

ground ginger

1

tsp

ground nutmeg

1

tsp

ground cloves

1

tsp

allspice

2

tsp

salt

2

tsp

baking soda

8

tsp

baking powder

8

cups

all-purpose flour

5

cups

dark brown sugar packed

8

large eggs

2

cup

buttermilk

2

cup

unsalted butter room temp

1

cup

sour cream
For the Cream Cheese Frosting:
16

oz

cream cheese

softened

4

cups

powdered sugar

2

tsp

vanilla extract
For the Buttercream
2

lb

confectioner's sugar

2

cup

salted butter

room temp

1/4

cup

milk

2

tsp

vanilla extract

20

drops

orange food coloring

Depends on brand used and desired color.
For the Stem:
8

tablespoons

un salted butter

room temperature

3

cups

confectioners sugar

5

drops

food coloring

Green and brown
Instructions
For the Cake
Preheat oven to 350 degrees.

Butter and flour 2 large bundt pans.

Mix the buttermilk and sour cream in a bowl and set aside.

Sift the dry ingredients (except the sugar) together and give a good whisk to mix well.

Cream the butter and sugar together in a stand mixer fitted with a paddle attachement for approximately 4 minutes on medium.

Add the eggs one at a time making sure each is incorporated well before adding the next.

Add the flour mixture in three batches alternating with the milk mixture. Making sure you start and end with the flour mixture. Do not overmix, just beat until combined.

Mix in the pumpkin puree. Scrape down the sides of the bowl and make sure the pumpkin is well incorporated.

Pour batter into bundt pans. Bake for about 60 minutes or until a skewer inserted in the center comes out clean.

Allow cakes to rest in pans for about 20 minutes then invert onto a wire rack to cool.
For the Cream Cheese Frosting:
Beat the cream cheese in a bowl until it is smooth. Add in vanilla and powdered sugar. Mix until ingredients are well-incorporated and desired consistency is reached.
For the Buttercream:
Beat butter until light and fluffy. Add vanilla and then slowly add sugar. Add milk a few tablespoons at a time until desired consistency is reached. If want a stiffer buttercream, use less milk. Add in the food coloring.
For the Assembly:
Cut bottoms off cakes.

Pipe or smear cream cheese frosting onto bottoms. Sandwich together.

Depending on the shape bundt pan you use, you may need to contour the outside using a knife to sculpt into a pumpkin shape.

Cover in orange buttercream. Refrigerate to help the sculpting process.

Using a knife, smooth into ridges. Add a second layer of dark buttercream to create dimension.

Smooth the buttercream. I cut a yogurt cup into a half circle-shaped tool. It's flexible and doesn't gouge the buttercream.

For the final smoothing chill the pumpkin in the freezer and use the back of a spoon dipped in hot water.
For the Stem:
Mix together butter and sugar until you get a consistency that is similar to clay. Mix in green food coloring. Sculpt into a stem figure. Use a piping bag with brown food coloring to create a natural look.

Add stem to the top of the pumpkin.
Nutrition Facts
Pumpkin Bundt Cake
Amount Per Serving
Calories 245
* Percent Daily Values are based on a 2000 calorie diet.
How to Make a Pumpkin Cake
How to Make a Pumpkin Cake
This pumpkin cake just might be the ultimate holiday centerpiece! Delicious and deceptive! Recipe up on the blog!