Melt in your mouth pumpkin spice latte donuts are so easy to make and so delicious you might regret reading this recipe! 😳  They're so moist you won't dare to dip them in anything! Also I gotta be real, many baked donuts are disappointing. They're like tiny cupcakes without buttercream that have been over-baked. MEH!!! These don't have that problem, the pumpkin brings a lot of moisture and the glaze just seeps into the cake and makes each bite perfect!
Let's talk about substitutions!
For a vegan option nix the eggs, whisk in 7 1/2 teaspoons of ground flax seeds into nine tablespoons of water until it becomes gelatinous. Substitute the milk and half and half for for coconut or almond milk. Trade the butter out for vegetable or coconut oil.
Print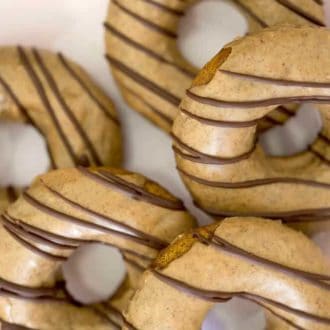 Pumpkin Spice Latte Donuts
Pumpkin spice donuts topped with an espresso glaze and chocolate drizzle.
Ingredients
INGREDIENTS:
2

cups

all-purpose flour

1/2

cup

brown sugar

packed

2

teaspoons

baking powder

2

teaspoons

pumpkin pie spice

1/2

teaspoon

salt

1/2

teaspoon

baking soda

1

cup

pumpkin puree

1/2

cup

half and half

1/2

cup

milk

1/4

cup

butter

unsalted, room temperature
For the glaze
1¼

cups

confectioners' sugar

1

tbsp

milk
For the Spice Mixture. (Reserve 1/2 for the glaze)
2

teaspoon

of instant espresso

1/2

teaspoon

of allspice

2

teaspoon

cinnamon

1/4

teaspoon

of ginger

2

tablespoon

of cream

6

cups

of confectioners sugar

2

eggs
For the Chocolate Ganache:
1/2

cup

chocolate

semi-sweet

1

tablespoon

instant espresso
Instructions
INSTRUCTIONS:
Heat oven to 325 degrees. Coat donut pans with grease or cooking spray.

In a stand mixer, combine flour, brown sugar, baking powder, pumpkin pie spice, salt and baking soda.

In a small bowl, combine all spices -- instant espresso, cinnamon, ginger, cream and confectioners sugar. Whisk together, then add to the stand mixer bowl.

Add in pumpkin puree, eggs, milk and butter. Mix on low until mixture is thick.

Move batter to a piping bag. Squeeze into the donut circles, 1/2 the way up to each holder. Cook for 10-14 minutes.




Transfer to a wire rack. Let the donuts cool.
For the Glaze:
Combine milk and spice mixture in a mixer until smooth.
For the Ganache:
Melt chocolate and espresso powder, mix and transfer to a piping bag.
For the Assembly:
Dip cooled donuts into the glaze mixture. Let sit for a few minutes.

Squeeze ganache in a swiping motion to produce fluid, chocolate lines.
Nutrition Facts
Pumpkin Spice Latte Donuts
Amount Per Serving
Calories 290
* Percent Daily Values are based on a 2000 calorie diet.