What's better than making pancakes in the morning with some real maple syrup and a cup of coffee? These homemade pancakes are really easy and only require simple ingredients! Nothing special needed and you'll be a hero of the morning. These pancakes from scratch are that delicious making them a favorite breakfast recipe of mine and so much better than any pancake mix. The hit of vanilla, salt and sugar make for a perfectly balanced bite! I love maple syrup but found myself snacking on them plain throughout the day, they're that good!
What You'll Need For This Recipe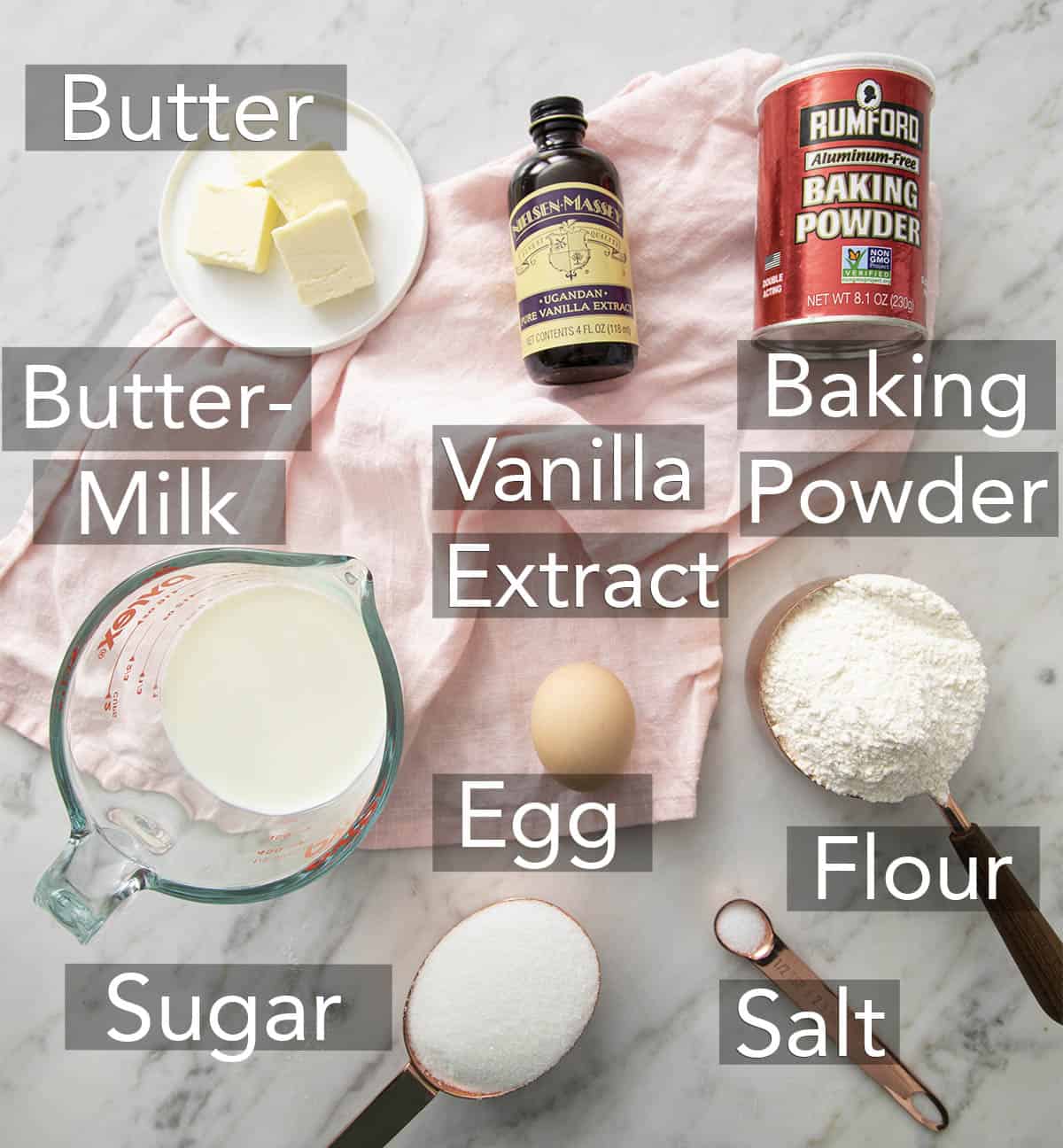 About the Buttermilk: This helps them be light and fluffy. If you don't have any buttermilk on hand just sour some regular milk with a tablespoon of lemon juice or white vinegar. Mix and set aside for a few minutes ant it will be a perfect substitute.
How to Make Pancakes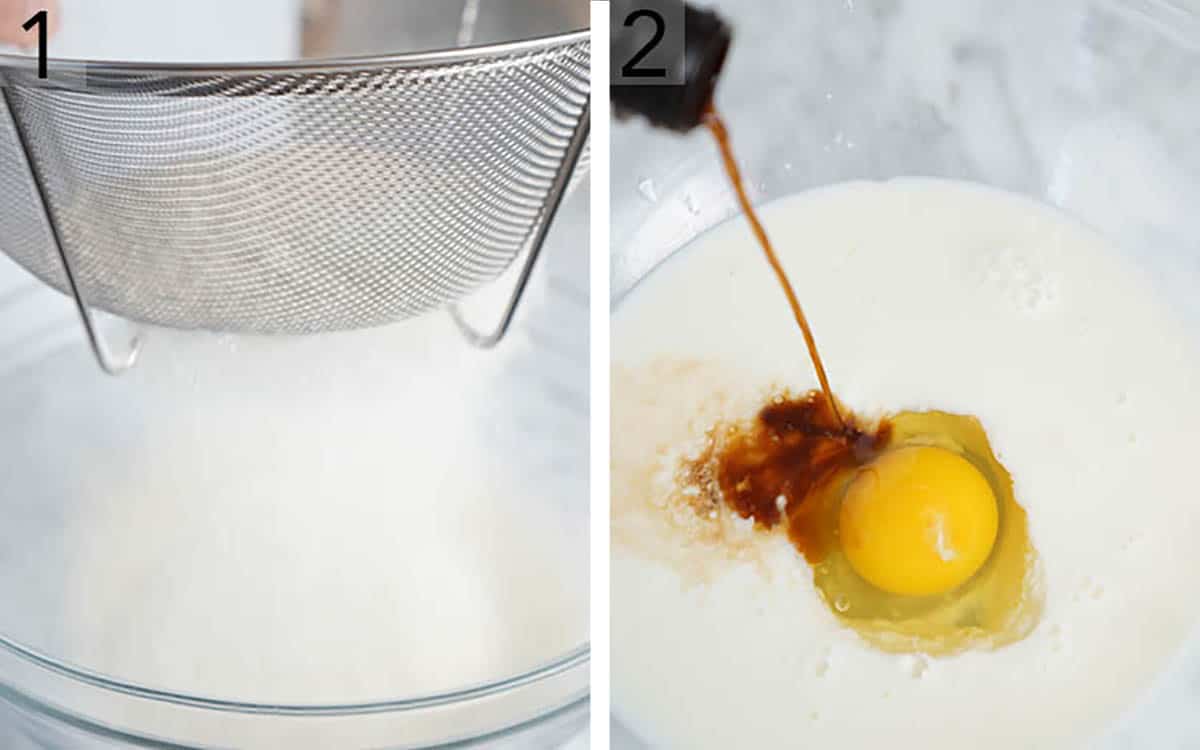 1. Sift the flour, sugar, baking powder and salt into a large bowl. Whisk the ingredients together and set aside. In a small bowl melt the butter and set aside.
2. In a separate bowl add the buttermilk, egg and vanilla then whisk together.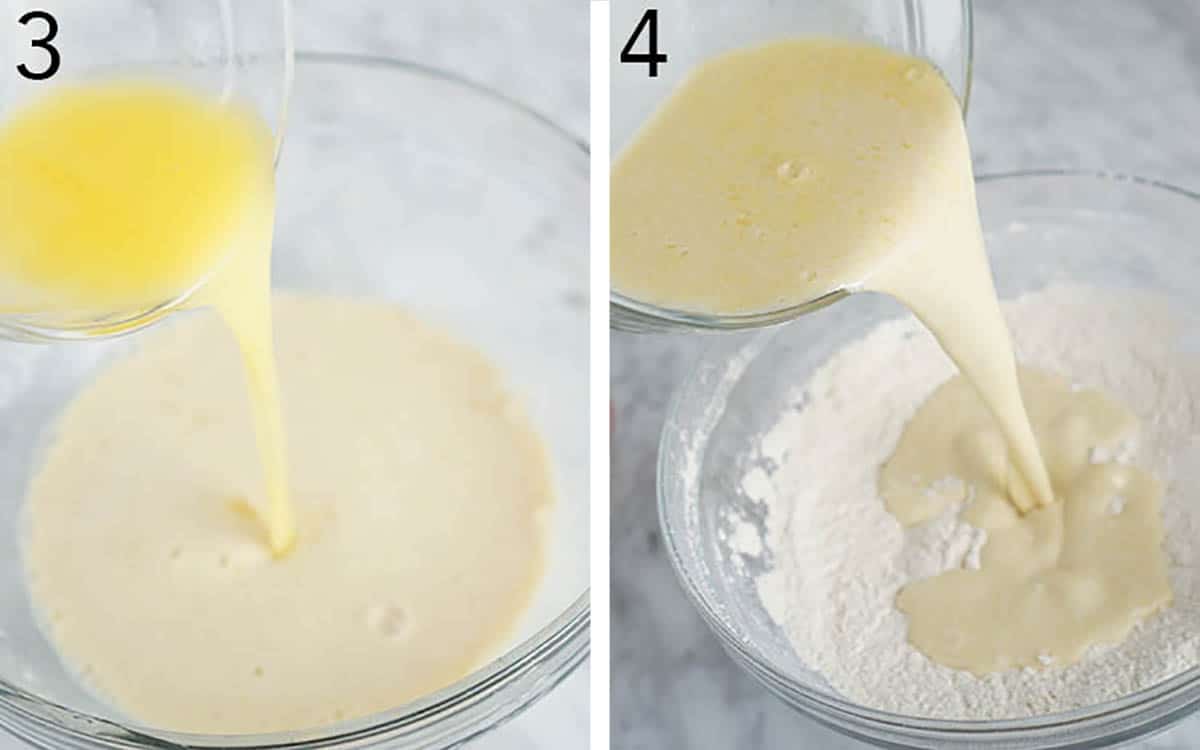 3. Pour the melted butter into the milk mixture and stir together.
4. Pour the wet mixture into the dry ingredients. Begin heating your pan on medium high with a pat of butter for lubrication.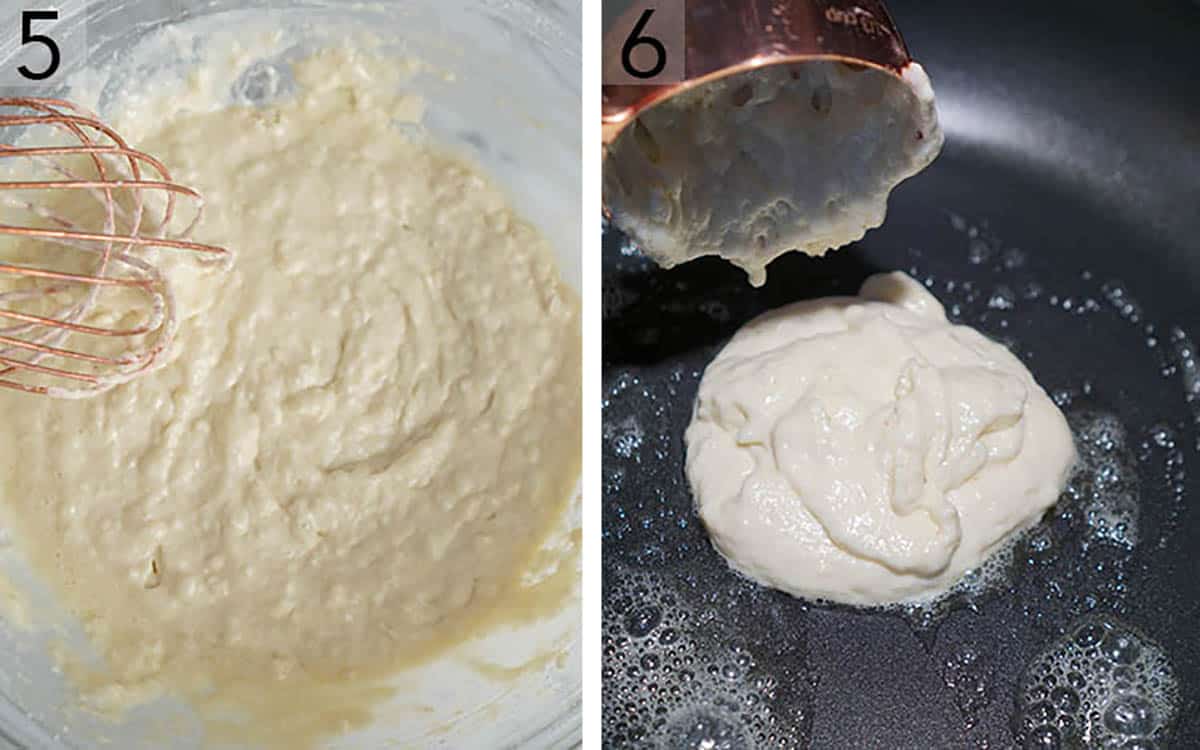 5. Whisk together until JUST combined. Don't worry about any little lumps you see.
6. Use a measuring cup to scoop about a third of a cup of the pancake batter and add it to your heated, buttered pan. Cook until golden brown, flip then and cook until golden.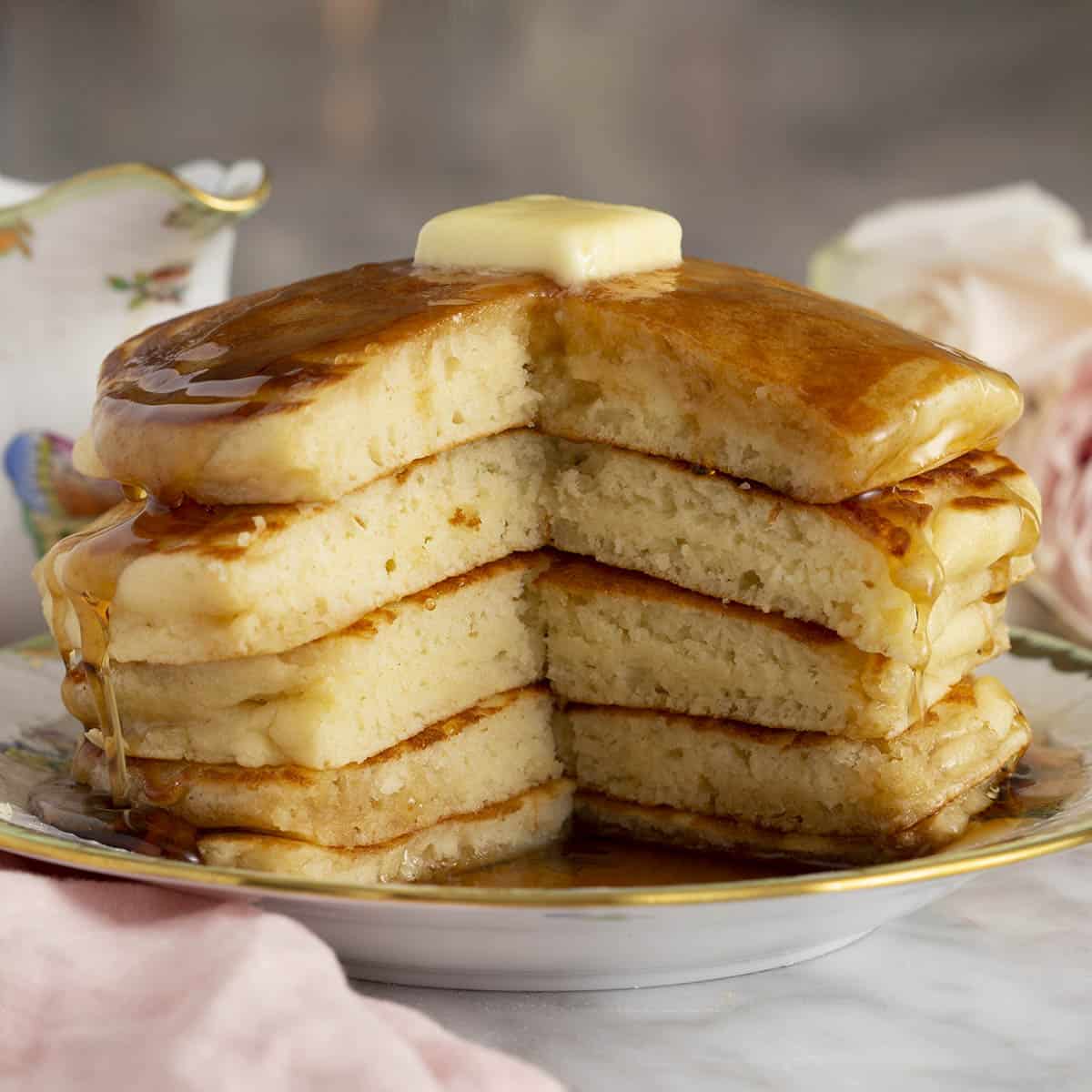 Pro Tips for this recipe
DON'T over-mix you batter! Those little lumps are fine and will dissolve when the pancakes cook.
You can DOUBLE or triple this recipe for more pancakes!
No buttermilk? No problem! Add a tablespoon of white vinegar or lemon juice to your milk, mix and set aside.
The best pancakes come from using room temperature wet ingredients. If possible get the milk and egg out early but if you're in a rush just zap them in the microwave for a minute after mixing together.
If you're microwaving butter cover the bowl with a small plate. The water in the butter will steam up and explode, splattering butter all over the microwave. You should of course always use 50% power when melting butter but better safe than sorry!
If you're adding berries, chocolate chips or thinly sliced apple, place them in the batter at the final stage and when you're mixing the wet and dry together.

Frequently Asked Questions
How do you make fluffy pancakes?
Don't over-mix the batter! All those little clumps will disappear when you cook the pancakes. The acid in buttermilk gives the leavening agents an extra lift but you can use a tablespoon of vinegar or lemon juice to get the same effect.
What can you add to them?
Blueberries are an all time favorite but THIN apple slices, raspberries torn into pieces, chocolate chips, and even a swirl of peanut butter are all great choices. Try adding about a cup to the batter at the last moment before plopping the batter into the pan.
Can you make them dairy-free?
For Dairy-free pancakes sub the cow's milk out for almond milk or light unsweetened coconut milk and swap out the butter for coconut oil.
What's the best pan to use?
A large nonstick pan is pretty ideal for making this pancake recipe, the larger surface makes it easier to flip them. However the very best cooking surface for pancakes is a griddle, the expansive flat surface and even heat are perfect for pancakes but not everyone has a griddle on their stove! Even if you're using a perfect nonstick surface you'll still want to lubricate the pan regularly for a nice, evenly golden pancake.
What can you put on top?
While maple syrup is a great go to there are TONs of options for topping your pancakes.
Jams and preserves of all sorts are great, my favorite is marmalade but strawberry is a total crowd pleaser.
Try making an infused simple syrup. Bring one cup of water and one cup of sugar to a boil then reduce heat to a simmer. Now you can add in your favorite flavors. Lemon or orange peels, berries, herbs, you name it. Simmer them in the simple syrup for a few minutes then transfer to a mason jar and let them steep.
Whipped cream! A dollop of homemade whipped cream is a great choice to compliment your pancakes.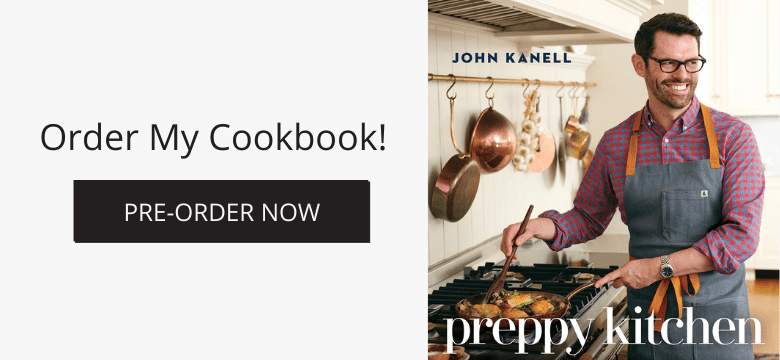 If you've tried this easy pancake recipe then don't forget to leave a rating and let me know how you got on in the comments below, I love hearing from you!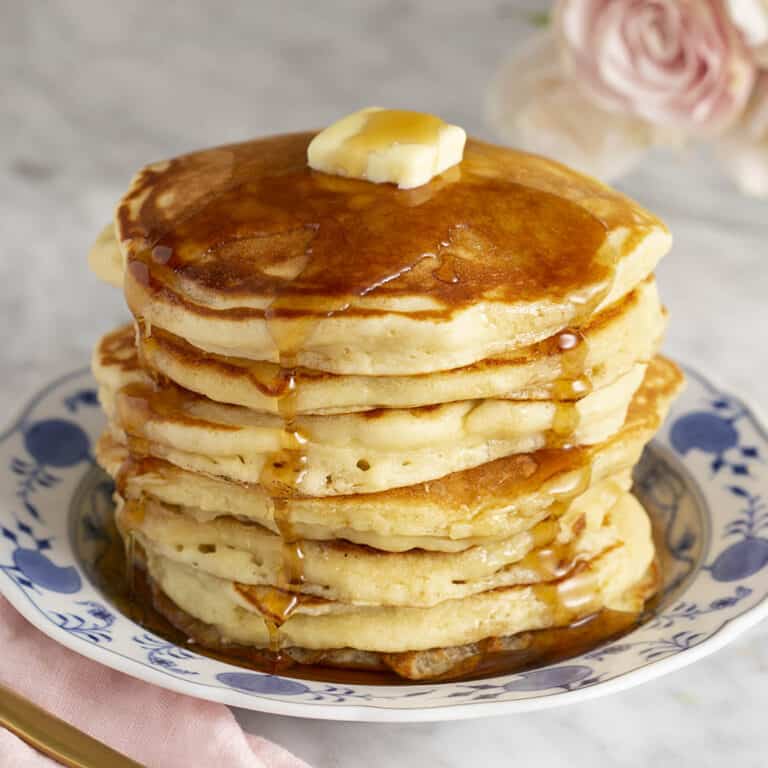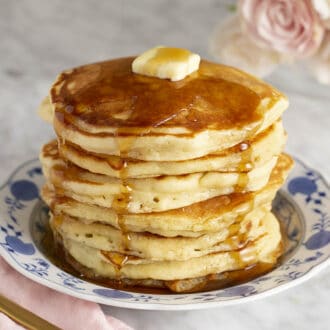 Print
Pancake Recipe
This EASY pancake recipe makes perfectly sweet pancakes that will float right into your mouth!
Ingredients
1 1/3

Cups

all-purpose Flour

160g

1

tbsp

baking powder

2

tbsp

sugar

1

tsp

salt

1

egg

large

4

tbsp

butter

melted

1

cup

buttermilk

2

Teaspoons

vanilla extract
Instructions
Sift the flour, sugar, baking powder and salt into a large bowl and whisk together then set aside.

Melt the butter in a small bowl. In a medium bowl whisk the buttermilk, egg and vanilla together. Stir in the melted butter.

Add the wet mixture to the dry and mix until combined.

Place a pat of butter in a large pan over medium-high heat. Once melter and bubbling add about 1/3 to 1/2 cup of batter for each pancake.

Cook for a few minutes until golden then flip oven and cook an additional minute. Add more butter as you make additional pancakes.
Notes
Although they're best right out of the pan you can make a big batch of pancakes and enjoy them for a few days afterwards. Wrap them up once they're room temp and place in fridge. Pop them into the microwave in a covered dish on a low setting and they'll be warm and delicious.!
Don't over-mix the batter. It's really just getting mixed until it comes together. If you see a few pumps don't worry. They'll disappear when cooking.
Nutrition
Serving:
1
Pancake
|
Calories:
248
kcal
|
Carbohydrates:
29
g
|
Protein:
6
g
|
Fat:
12
g
|
Saturated Fat:
7
g
|
Cholesterol:
62
mg
|
Sodium:
290
mg
|
Potassium:
107
mg
|
Fiber:
1
g
|
Sugar:
8
g
|
Vitamin A:
410
IU
|
Calcium:
67
mg
|
Iron:
1
mg
*
Nutrition Disclaimer