Cinnamon rolls are so good when they're fresh out of the oven and freshly glazed; so good that I've been tempted to believe those prepackaged monstrosities from the convenience store (don't tell anyone)!
Anyhow these skillet cinnamon rolls are such a special treat. Perfect for a late morning treat with some coffee! I would heartily suggest adding some toasted pecans if you're in the mood for a little something extra. What would you do to customize these?
If you've tried these rolls then don't forget to rate the recipe and let me know how you got on in the comments below, I love hearing from you!
Print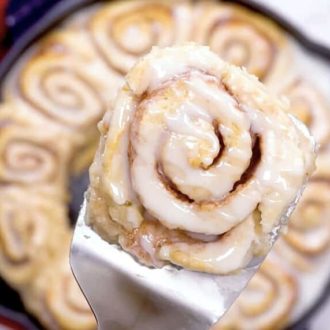 Skillet Cinnamon Rolls
Probably the best use for a skillet I can think of.
Ingredients
INGREDIENTS:
3/4

cup

granulated sugar

divided

1/4

tsp

ground cloves

1

tbs

ground cinnamon

5

cups

self-rising flour

plus more for dusting

1 3/4

cup

milk

1/4

cup

sour cream

9

tablespoons

unsalted butter

melted, divided
Instructions
For the Cinnamon Sugar:
Mix 1 tbsp cinnamon and 1/2 cup sugar in a bowl and set aside.
For the Rolls:
Preheat oven to 350F

Whisk together the flour and 1/4 cup sugar in a large bowl.

Add 4 tbsp melted butter and the milk to the flour mixture and stir until just combined.

Roll dough out to a rectangle that's 1/4 an inch thick and  24x10 inches.

Roll the long side of the dough to create a spiral. Pinch the seam so the spiral doesn't unravel and roll your log so the seam is far down.

Cut the dough into about 15 pieces.

Place the rolls cut side up in a skillet and brush the tops of the cinnamon rolls with the remaining 2 tablespoons of melted butter.

Bake for about 30 minutes or until a wooden skewer comes out clean from the center. Allow cooking in the skillet on a wire rack for about 20 minutes.

Place the powdered sugar, milk, and salt in a medium bowl and whisk until smooth. Drizzle over the cooled cinnamon rolls and serve.
Recipe Video
Recipe Notes
Recipe is adapted from the Kitchen.com
Nutrition Facts
Skillet Cinnamon Rolls
Amount Per Serving (88 g)
Calories 290
Calories from Fat 89
% Daily Value*
Total Fat 9.9g 15%
Sodium 686mg 29%
Total Carbohydrates 47g 16%
Protein 3.8g 8%
* Percent Daily Values are based on a 2000 calorie diet.
How to Make Cinnamon Rolls
How to Make Cinnamon Rolls
Cinnamon rolls are so good when they're fresh out of the oven and freshly glazed; so good that I've been tempted to believe those prepackaged monstrosities from the conveni…