I used all the Fall spices for these pumpkin cupcakes, cinnamon, ginger, allspice, cloves and nutmeg! I have a soft spot for pumpkin everything but as you might know, I hate fondant. Yes I use it but only on the rarest of occasions. It just doesn't taste great. So I was determined to pipe some pumpkins for these cupcakes and not shape them out of rock-hard sugar paste you have to pick off before eating. My pumpkin spice cupcakes are cored and filled with a vanilla custard then topped with buttercream regular and pumpkin-shaped!
Hope you enjoy!
Print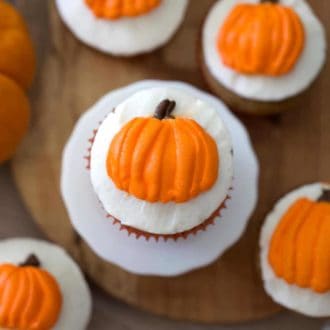 Pumpkin Spice Cupcakes:
Delicious pumpkin cupcakes topped with buttercream pumpkins!
Ingredients
For the Cupcakes:
1 ½

cups

pumpkin puree

3

tsp

cinnamon

2

tsp

ginger

½

tsp

nutmeg

½

tsp

cloves

½

tsp

all-spice

½

tsp

salt

1

tsp

baking soda

4

tsp

baking powder

4

cups

all purpose flour

2 ⅔

cups

brown sugar

4

large eggs

1

cup

buttermilk

1

cup

butter

½

cup

sour cream

2

teaspoon

orange blossom water

2

teaspoon

vanilla
For the Buttercream:
3

tsp

vanilla

1

lb

confectioner's sugar

1

cup

unsalted butter room temperature

3

tbs

heavy whipping cream

Orange food coloring

Brown food coloring
For the Filling:
1/4

cup

sugar

1 1/2

tablespoons

cornstarch

1/8

teaspoon

salt

1

cup

whole milk

1

egg yolk

1

tablespoon

butter

1/2

teaspoon

vanilla extract
Instructions
For the Cupcakes:
Preheat oven to 350 degrees. Add cupcake papers to a cupcake tin.

Mix the buttermilk, vanilla, orange blossom and sour cream in a glass and set aside.

Sift the dry ingredients (except the sugar) together and give a good whisk to mix well.

Cream the butter and sugar together in a stand mixer fitted with a paddle attachment for approximately 4 minutes on medium.

Add the eggs one at a time making sure each is incorporated well before adding the next.

Add the flour mixture mixture in three batches alternating with the milk mixture. Making sure you start and end with the flour mixture. Do not over mix, just beat until combined.

Mix in the pumpkin puree. Scrape down the sides of the bowl and make sure the pumpkin is well incorporated.

Pour batter into cupcakes papers. Bake at 350 degrees for about 18-20 minutes, or until the center is set.

Let cool.
For the Buttercream:
Whip the butter for about 5 minutes using a paddle attachment (stand-up mixer).

Beat in the confectioner's sugar slowly.

Add the cream and vanilla. Beat until you have an even, fluffy consistency.

Reserve a couple tablespoons for the stems. Add a few drops of brown and mix. Reserve ⅓ for the pumpkin. Add drops of orange until you reach a desired consistency.
For the Filling:
Whisk sugar, cornstarch, and salt in a saucepan.

Add milk into the sugar mixture. Stir until a paste. Combine milk and egg yolks.

Cook the mixture on a low heat, while stirring continuously. Let the mixture thicken and don't over boil. Turn off the heat. Add butter and vanilla.

Transfer mixture to a bowl. Create an airtight seal with plastic wrap. Move to the refrigerator for about an hour until chilled.
For the Assembly:
With a cupcake corer or the reverse side of a piping tip, core a whole.

Pipe filling into the cupcake.

To pipe the white base, fit a piping bag with a number 3 round tip. Pipe in a circular motion.

Fit another piping bag with a 143 tip. Pipe

Use a cake icing tip to create a white circular base of your pumpkin. Pipe another closed circle on top for the pumpkin itself. Pipe the pumpkin using a 143 tip with the bag filled with orange. You might need to use a small knife to clean the edges to shave the pumpkin. Pipe the brow stem using a small round tip.
Nutrition Facts
Pumpkin Spice Cupcakes:
Amount Per Serving
Calories 190
* Percent Daily Values are based on a 2000 calorie diet.
How to Make Pumpkin Cupcakes
How to Make Pumpkin Cupcakes
My pumpkin spice cupcakes are cored and filled with a vanilla custard then topped with buttercream regular and pumpkin-shaped! Recipe up on the blog!sugar