So I had this idea of piping candy melt snowflakes for a Christmas cake and I love how it came out! There is definitely a trip to it though. Candy melt is really easy to work with but it does harden quickly so keep a HOT glass of water close by while you pipe and dip your piping bag into it at regular intervals to keep the candy melt at the right temperature. Click here for the printable template I used as a guide for my snowflakes.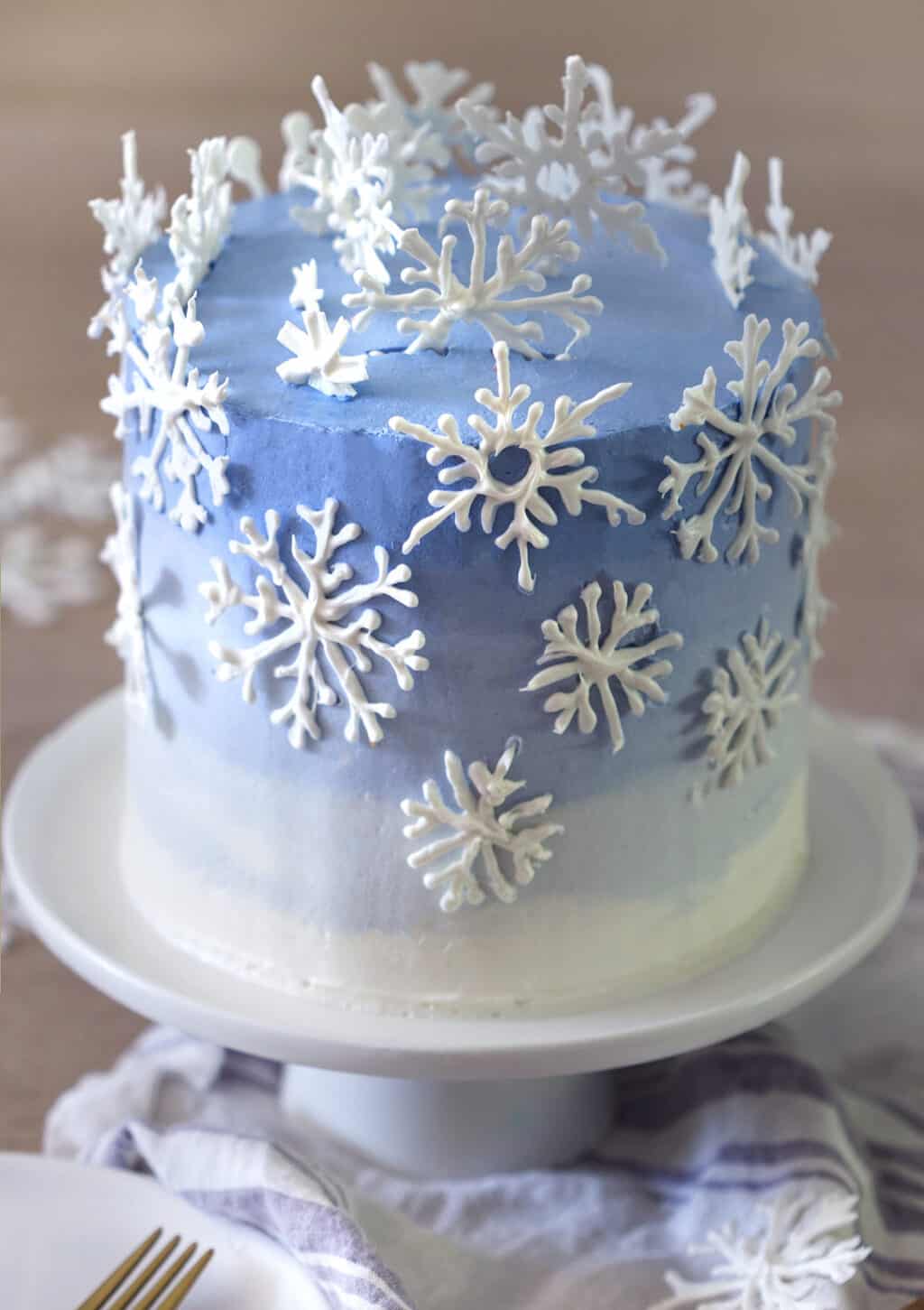 Your snowflakes don't have to be perfect and uniform, real ones are all a bit different after all! You will be whipping up a batch of Italian buttercream for this cake so click over for my IBC recipe and step-by-step. You will divide the buttercream into several batches and tint them in various shades of blue for the ombré.
Snowflake Cake
Candy melt snowflakes make this peppermint-kissed cake a showstopper.
Ingredients
For the Buttercream:
3

teaspoon

vanilla

1

lb

confectioner's sugar

1

cup

unsalted butter

room temperature

3

tablespoon

heavy whipping cream

blue food coloring

red food coloring
For the Cake:
1 2/3

cups

all purpose flour

1

cup

sugar

1/4

teaspoon

baking soda

1

teaspoon

baking powder

3/4

cup

unsalted butter

room temperature

3

egg whites

3

teaspoon

vanilla extract

1/2

cup

sour cream

1/2

cup

whole milk

1

teaspoon

peppermint extract
For the Snowflakes:
⅔

cup

candy melt

parchment paper
For the Italian Buttercream:
4

large

eggs

1 1/3

cup

sugar

pinch

kosher salt

16

oz

unsalted butter

cut into 1-inch pieces

1

teaspoon

vanilla extract

1/4

teaspoon

cream tartar
Instructions
For the Cake:
Preheat oven to 325 degrees F.

Butter and paper three 6-inch cake pans. I use cake strips on my pans for more even baking.

Sift and mix dry ingredients in a large bowl.

Beat the wet ingredients together in a medium bowl.

Add wet to dry ingredients and mix until combined

Divide the mixture evenly into the cake pans.

Bake for 25 to 30 minutes until the centers are springy to the touch.

Let cool completely.
For the Buttercream:
Whip the butter for about 5 minutes using a paddle attachment (stand-up mixer).

Beat in the confectioner's sugar slowly

Add the cream and vanilla. Beat until you have an even, fluffy consistency.

Transfer a white batch to a piping bag. Add red food coloring to another batch and transfer to a piping bag. Snip off the tips of both and add to a larger piping bag. Pipe a spiral between each layer.

Pipe and smooth a crumb coat with excess.
For the Italian Buttercream:
Beat the egg whites, salt and cream of tartar, slowly add in 1/3 cup of sugar and continue beating until soft peaks form. In a medium saucepan add the remaining sugar and 1/3 cup water then place on medium-low heat. Stir until sugar melts and becomes clear.Maintain at medium-high heat until temperature reads 235-240F.

Drizzle the sugar into the mixer immediately. Run mixer until meringue is cool/tepid. Add room temperature butter into running mixer one tablespoon piece at a time.

Add the salt and vanilla if using. Beat until butter is combined and mixture has reached a silky consistency.

Create a gradient by adding different amounts of blue food coloring to remaining buttercream batches. Transfer each color to its own piping bag. Pipe the ombre color and smooth with an offset spatula.
For the Snowflakes:
Melt candy melts in the microwave.

Transfer to the piping bag and snip off the tip.

Pipe snowflakes onto a piece of parchment paper. This can be done freehand or over a snowflake stencil.
For the Assembly:
Pipe the red and white buttercream between each cake layer.

Pipe white, then blue buttercream, lightest to darkest starting from the bottom.

Smooth with an offset spatula.
SaveSave
SaveSave
SaveSave
SaveSave
SaveSave
SaveSave
SaveSave
SaveSave
How to Make a Snowflake Cake
How to Make a Snowflake Cake
This blue ombré cake is filled with a two-tone candy cane buttercream and covered in delicate candymelt snowflakes. I love the effect the snowflakes give and they're not …