Today, I wanted to make a vegetable tart. I got all my ingredients together, including tons of beautiful veggies from the market on my shopping day. I envisioned an artful assortment of eggplant, asparagus, and heirloom carrots. When it came to executing the tart — however —  I decided to make was a mesmerizing, spiral tart. Back to the market, I go… The zucchini and yellow summer squash really caught my eye and complimented my previously purchased carrots, nicely! The tart might look crazy — and time-consuming — but really it is pretty simpler. A vegetable peeler makes these thin slice. From there, you arrange them in a giant roll. The TV in the background can make this process effortless. My favorite part of the tart is the filling. When you mix goat cheese, lemon juice, salt, thyme, and minced garlic you get something that tastes like "WOW!" You can spread it on toast, veggies or eat it by the spoonful. 
Print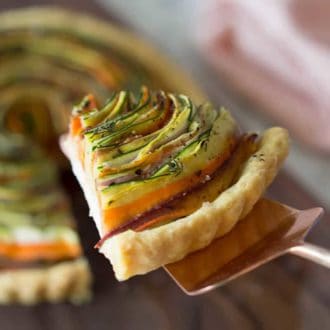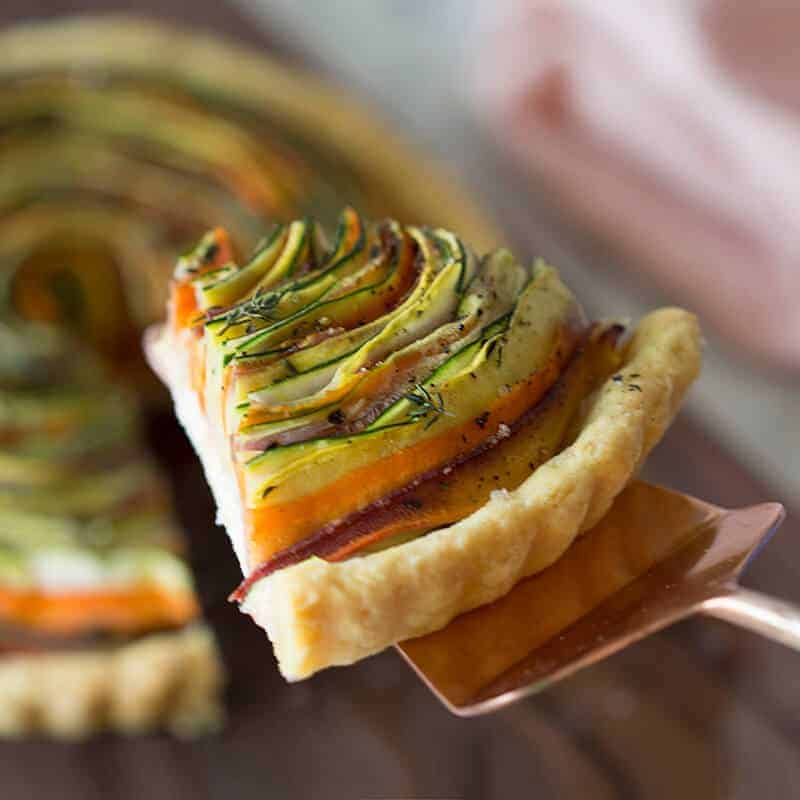 Spiral Vegetable Tart
A mesmerizing vegetable tart with a flakey pastry base and a filling made from goat cheese, lemon juice, salt, thyme, and minced garlic.
Total Time
1
hour
35
minutes
Ingredients
For the Filling
1/2

cup

goat cheese

1

Tablespoon

lemon juice

1

teaspoon

minced garlic

1

pinch

salt

1

pinch

pepper

1

tsp

fresh thyme leaves
For the Vegetables
3

yellow squash

3

zuccinni

4

carrots

1 1/2

tsp

salt

2

tsp

fresh thyme leaves

2

tbs

olive oil

for brushing
For the Shell
1 1/3

cups

all-purpose flour

1/4

tsp

salt

1

egg

1

tbsp

lemon juice

1

egg yolk

9

tbsp

cold butter

cut into 1 inch cubes
Instructions
For the filling
Mix the goat's cheese, lemon juice, garlic, salt and thyme in a small bowl.
For the Tart Shell
Mix the egg and lemon juice in a small bowl.

Add the flour, butter and egg mixture to a food processor and pulse until if forms into a ball.

Place dough on a floured surface and knead about 5-7 times.

Form into a disk, wrap in plastic and chill for at least 30 minutes.

Roll out into a 10-11 inch circle and line tart pan making sure to puch into all the corners.

Cover with parchment paper and weights (you can use beans or rice) and bake at 425F for about 18 minutes.

Remove paper and wrights and brush with beaten egg yolk. Return to oven and bake for another 4-5 minutes longer. Allow to cool before applying filling.
Assembly
Slice the vegetables with a peeler and arrange on paper towels to absorb water.

Spread the goat cheese mixture on the baked tart shell.

Arrange the slices in a spiral.

Brush tart with olive oil. Sprinkle salt and thyme (pepper is desired).

Bake at 350F for about 50-55 minutes.
Recipe Notes
Pate Brizeé recipe adapted from James Beard Foundation.
If you want to make the crust without eggs, add 2 tbsp of whole milk and skip the egg wash. 
Nutrition Facts
Spiral Vegetable Tart
Amount Per Serving
Calories 154
* Percent Daily Values are based on a 2000 calorie diet.
I love the golden color of a pastry dough that uses egg yolk. And added bonus is it's less crumbly!
This goat cheese filling was amazing. the garlic and lemon give it a kicky zing.
It was hilarious making this pretty tart out of what looked like vegetable scraps destined for the compost pile.
Also…Have you EVER seen carrots that look so much like bacon??
Starting to come together and look like a proper spiral tart.
All done and ready for a good brushing with olive oil.
Ready for the oven after a healthy sprinkle or sea salt, pepper and thyme.
Ready for the plate, just waiting for it to cool…
This is the little tart I made from the scrap pastry and left over goat's cheese mixture. I layered a few bits of summer squash on top and sprinkled with olive oil, salt, pepper and thyme. It baked faster and was a delicious treat!