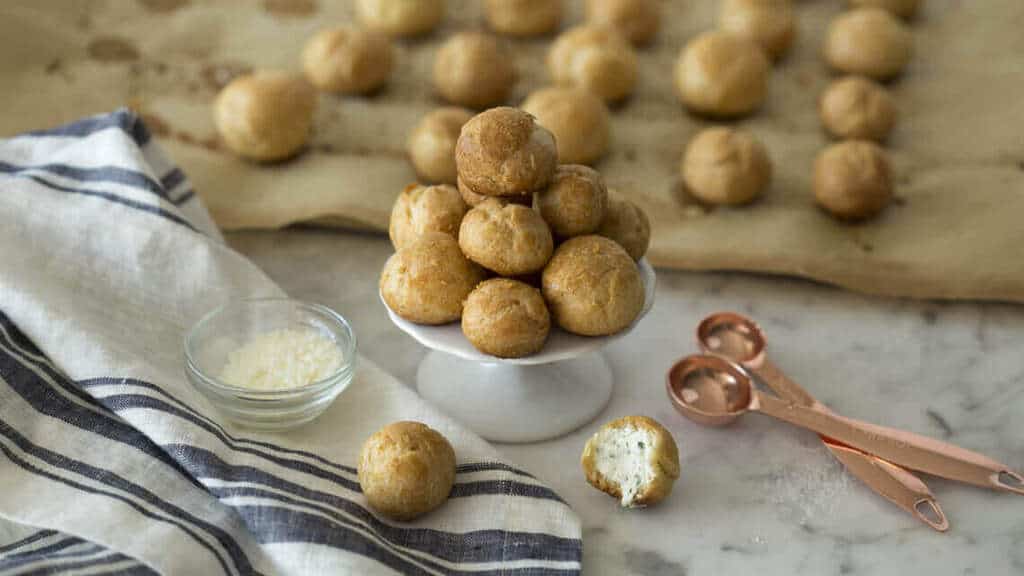 Chocolate eclairs and cream puffs are some of my favorite desserts! For a while now I wanted to make a savory version of a cream puff and fill it with cheese. I LOVED the goats' cheese spread I used in my spiral vegetable tart so I made a pipable version of that as the filling. Creamy goats' cheese, a zing of lemon, a bit of garlic, salt and pepper for more flavor, and minced parsley (for color and a bit of extra depth) make for a dessert I don't want to share! These were addictively good. I have to make multiple batches for a party and people will INHALE them! If you have any little helpers in the kitchen, piping the dough and making/piping the filling are really easy! It would be a fun little assembly line. Tell me if you like it!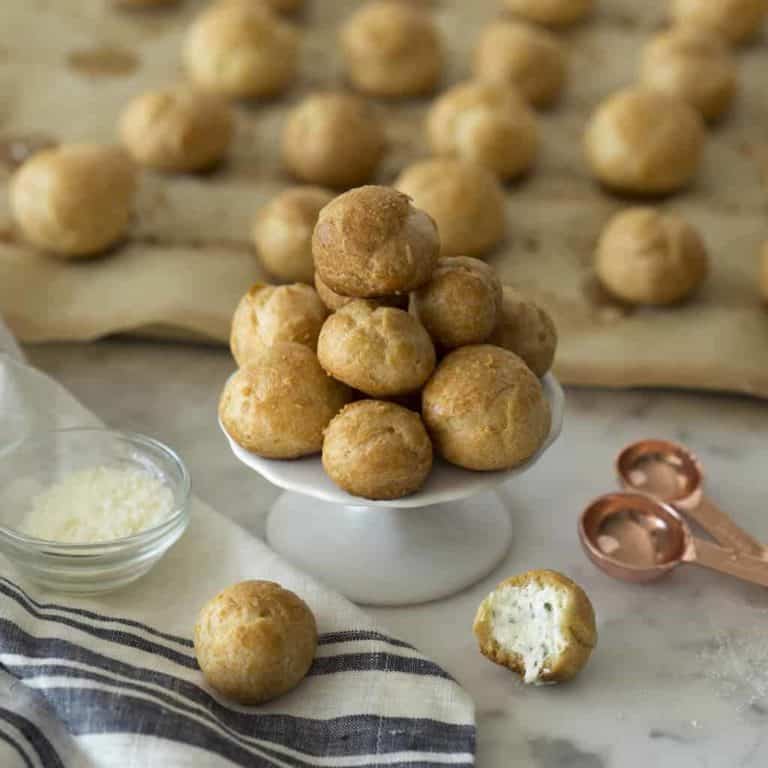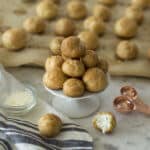 Print
Cheese Puffs
Savory puffs filled with creamy goats' cheese flavored by parsley, lemon and garlic.
Ingredients
For the Choux
1

cup

all-purpose flour

1

cup

water

1/2

tsp

salt

1/2

tsp

sugar

8

tbsp

unsalted butter

4

eggs

Plus an extra for egg wash

3

tbsp

pecorino romano
For the Filling
16

oz

goats' cheese

room temperature

3

tbsp

minced parsley

1/4

cup

cream

2

tbsp

lemon juice

1/2

tsp

minced garlic

1/2

tsp

salt

to taste

1/2

tsp

freshly ground black pepper

to taste
Instructions
For the Filling
In a medium bowl, beat together all of the ingredients until combined and smooth. You may adjust the amount of cream as some brands of goats' cheese are smoother than others. The filling should be pipable but not runny. You may make the filling a day or two in advance and refrigerate.
For the Pastry
Preheat the oven to 425 degrees. Line a sheet pan with parchment paper.


In a medium saucepan bring the water, salt, sugar and butter to a rolling boil.

When it boils, immediately take the pan off the heat. Stirring with a wooden spoon, add all the flour at once and stir hard until all the flour is incorporated, 30 to 60 seconds. Return to the heat and cook, stirring for about 30 seconds.

Scrape the mixture into a mixer fitted with a paddle attachment (or use a hand mixer). Mix at medium speed. With the mixer running, add 4 eggs, 1 egg at a time. Stop mixing after each addition to scrape down the sides of the bowl. Mix until the dough is smooth and glossy and the eggs are completely incorporated. The dough should be thick, but should fall slowly and steadily from the beaters when you lift them out of the bowl.

Pipe one inch dollops onto the parchment paper-lined baking sheet. Tap down the points with a wet finger. Brush lightly with an egg wash and then sprinkle with the pecorino romano.

Bake at 425F for 15 minutes. Or until golden brown. If your puffs need additional time, lower oven temp to 375F.

Once cooled, poke a hole into the bottom of each puff and then pipe in the filling.
Nutrition
Serving:
1
g
|
Calories:
72
kcal
|
Carbohydrates:
6
g
|
Protein:
1.7
g
|
Fat:
4.7
g
|
Saturated Fat:
2.7
g
|
Polyunsaturated Fat:
0.3
g
|
Monounsaturated Fat:
1.3
g
|
Cholesterol:
41
mg
|
Sodium:
39
mg
|
Potassium:
19
mg
|
Fiber:
0.3
g
|
Sugar:
1.5
g
|
Vitamin A:
170
IU
|
Calcium:
5
mg
|
Iron:
0.4
mg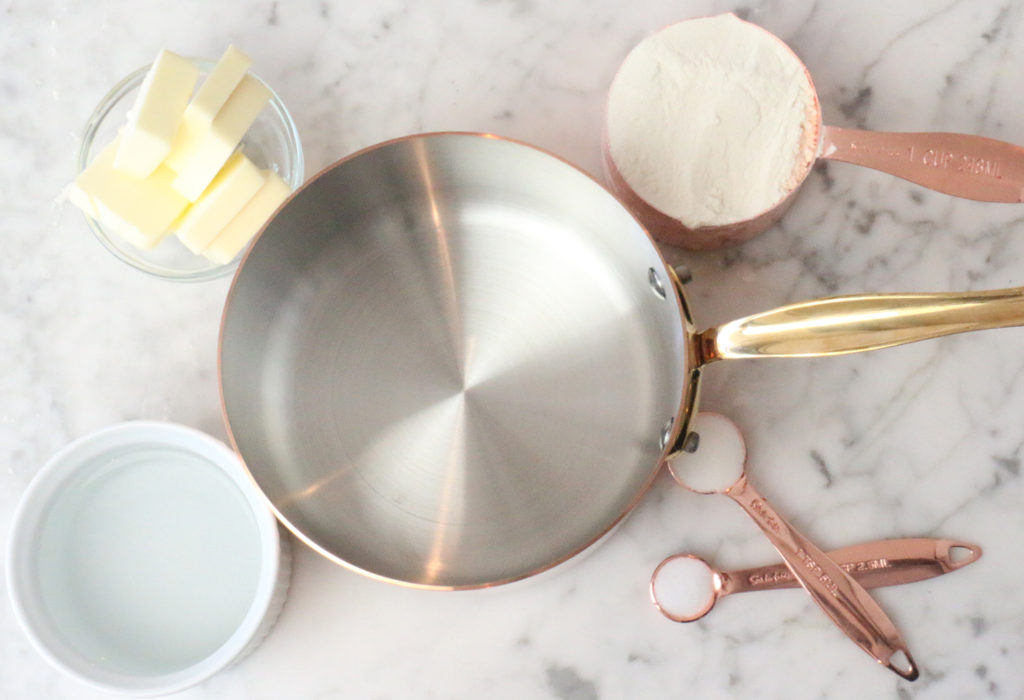 The choux is actually quite simple to make. Boil the water, salt sugar and butter then dump in the four in and stir. Well thats the beginning at least.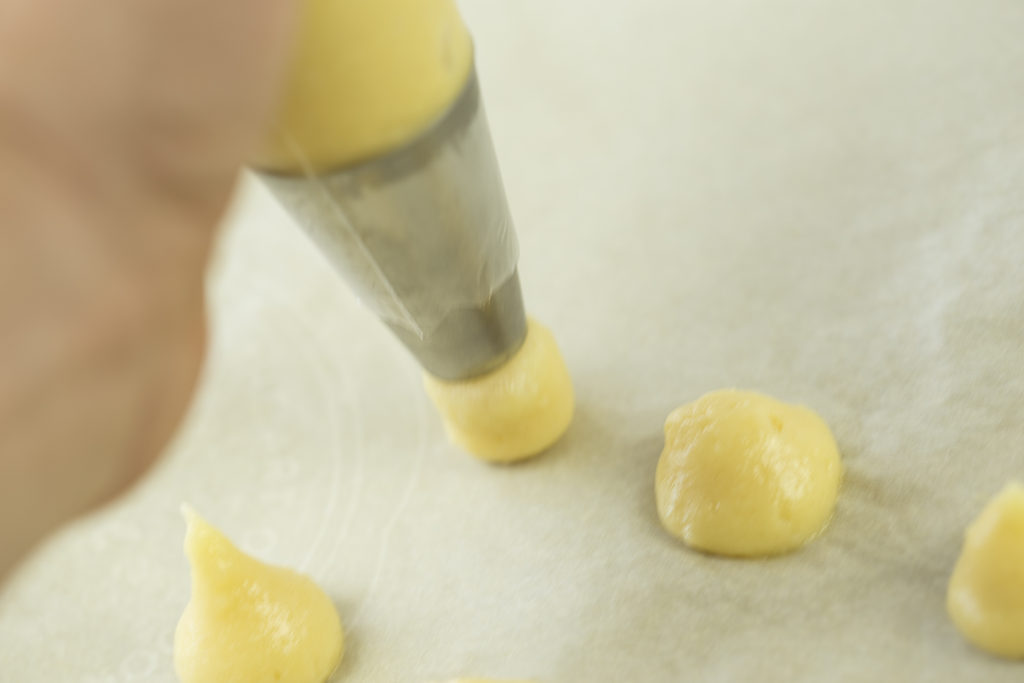 I piped small one inch dollops. Don't drive yourself crazy trying to get them super uniform.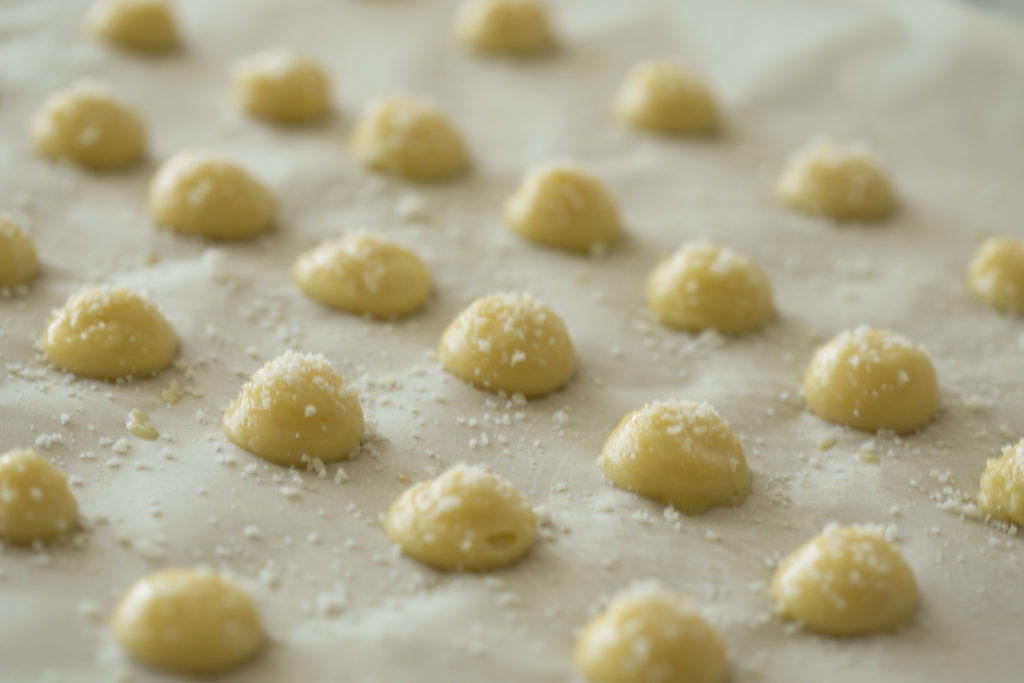 Tap the points down using a wet finger. Quick egg wash and sprinkle with  Pecorino Romano. I gave the cheese a few pulses in the food processor to get a fine crumble.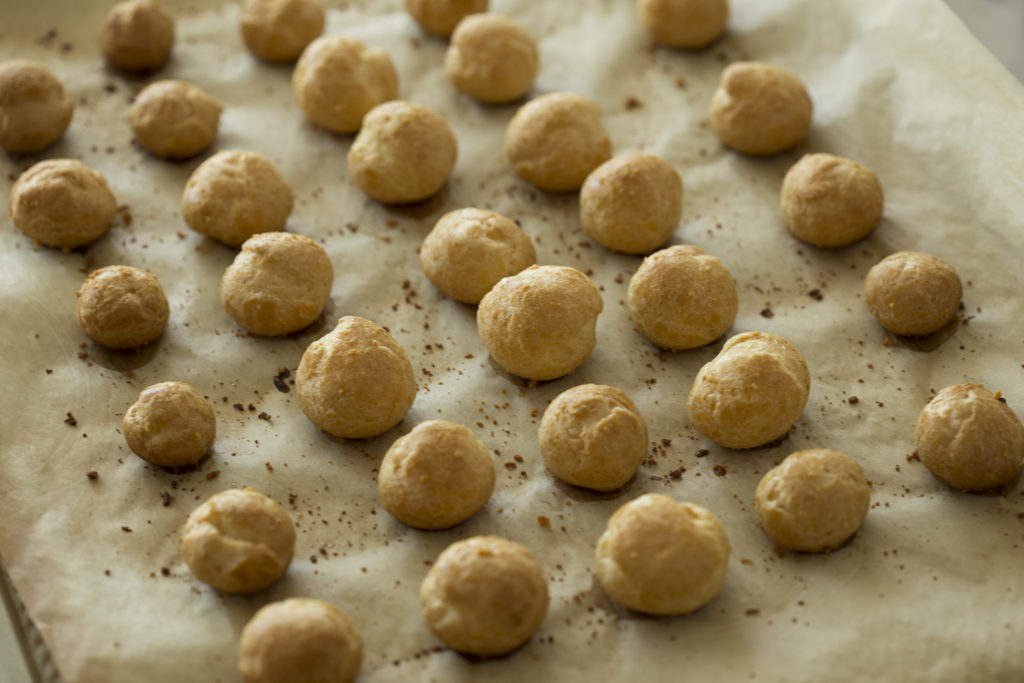 The puffs should be golden brown when they come out of the oven. Watch them carefully because they go from under-cooked to perfect to burnt quickly!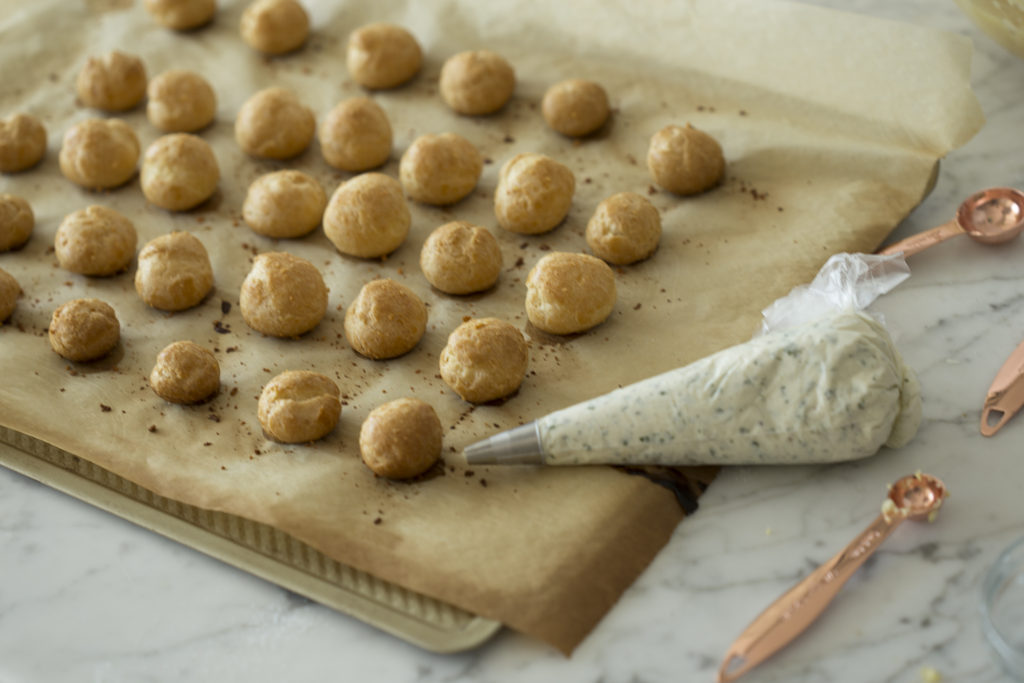 Poke a hole in the bottom of each puff then fill with the cheese mixture.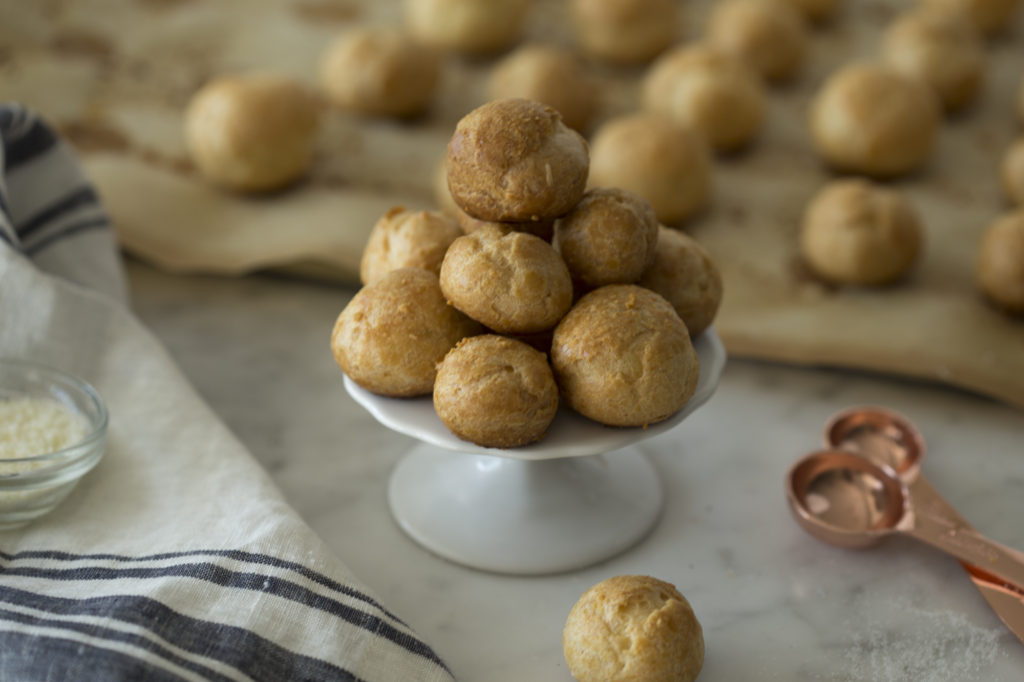 I couldn't resist making a miniature version of a croque en bouche on my little cupcake stand.