Let me first start off with a confession… Peppermint is not my favorite flavor. When I think of it, I remember those hard round candies I begrudgingly ate as a child. They're sharp in flavor and DEFINITELY not a chocolate Santa santa (my favorite). Fast forward to now… it's time to face my fears, so to speak. I'm making my chocolate peppermint cake. In my opinion, people tend to go overboard by adding flavoring to desserts — so for this cake — I wanted to make the peppermint noticeable but subtle. It's chocolate cake, not a breath-mint…ha! I thought it would be cute if the inside was a pink, peppermint swirl but maybe I should have gone with the traditional red? What do you think??
Print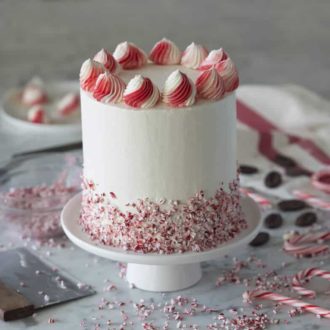 Chocolate Peppermint Cake
A rich chocolate peppermint cake with a kiss of peppermint, a white chocolate peppermint buttercream filling, crushed peppermint and a silky Italian buttercream all over.
Total Time
1
hour
5
minutes
Ingredients
For the Cake
2

cups

all-purpose flour

1 1/2

cup

sugar

1

cup

unsalted butter

room temperature

1

cup

buttermilk

1/2

cup

cocoa powder + 1 tbsp

1/2

tsp

baking powder

1/2

tsp

baking soda

1

tsp

salt

2

tsp

vanilla

1

tsp

peppermint extract

3

eggs

2

egg yolks
For the Peppermint Buttercream
1

cup

white chocolate

melted and cooled

1/2

cup

unsalted butter

room temperature

1

pound

confectioners' sugar

sifted

1/2

tsp

peppermint extract

1/4

cup

cream

add a tablespoon at a time until desired consistency is reached

10

drops

food coloring
For the Italian Buttercream
4

egg whites

room temperature

1 1/2

cup

sugar

1/3

cup

water

1

pinch

cream of tartar

1

pound

unsalted butter

room temperature
For the Assembly
1

cup

crushed candy caines

(approximately)

1

869 piping tip
Instructions
For the Cake
Butter and flour 4 six inch cake pans. Preheat oven to 350F.

Sift the flour baking soda and powder, salt and cocoa powder.

Cream the butter and sugar together until light and fluffy. Beat the eggs and yolks in one at a time, then add in the vanilla and peppermint extract.

In three batches, mix in the flour mixture alternating with the buttermilk. Don't over-mix!

Divide batter evenly into pans and bake at 350f for about 25 - 30 minutes or until the centers are done. Allow to cool in pans for about 10 minutes and then invert onto a wire rack.
For the Buttercream
Beat the butter and melted (and cooled) chocolate together until well combined. Mix in the powdered sugar and peppermint extract. Add the cream a tablespoon at a time until the desired consistency is reached.
For the Italian Buttercream
Beat the egg whites, cream of tartar and 1/3 a cup of the sugar on medium high in a stand mixer. At the same time add the rest of the sugar and water to a small sauce pan and cook on medium high. Stir to mix the sugar and water and then keep an eye on the temperature using a candy thermometer. When the sugar is at 240F and the egg whites reach the soft peak stage, slowly drizzle the sugar into the running mixer and lead the mixer running for 10 or so minutes to allow the meringue to cool. Add in the butter a tablespoon at a time use immediately.
For the Assemby
Pipe the buttercream on the first cake layer (you can do a two tone swirl if you'd like 🙂 Sprinkle with crushed candy cane and repeat. Crumb coat the exterior and allow to set in the refrigerator for about 10 minutes.

Add the Italian buttercream and smooth. Apply the crushed candy cane to the base. Using an 869 tip, pipe dollops onto the top. You can also pipe the dollops onto a piping nail, freeze and apply to the top once set. If you use the piping nail you can twirl it while you pipe to get a swirled dollop.
Nutrition Facts
Chocolate Peppermint Cake
Amount Per Serving
Calories 177
* Percent Daily Values are based on a 2000 calorie diet.
Hypnotic pink peppermint swirls? Check!
My goal was to not mix another batch or buttercream just to finish the crumb coat so I was quite economical in my application. If you're making the two tone buttercream I suggest mixing up a smaller pink batch.
OK, so this part was a NIGHTMARE! Normally I would bake and crumb coat and decorate all in the same day. But I had a cold and was swamped with holiday stuff so I baked the cake layers and wrapped them in plastic so I could crumb coat the next day. Sounded like a good idea at the time but the plastic really moistened the outside of the cake, which is totally fine on the eating end but not cool on the decorating side of things. Basically the crumb coat was VERY crumby and not willing to do what I wanted. I did my best and let it set in the fridge for a few minutes and thankfully it did it's job and allowed me to apply a very clean layer of Italian buttercream for my final coat.
As for the crushed candy cane, I initially applied too much then had to carefully remove the top bits until I found the right proportion.
If you're wondering why I piped the dollops separately instead of directly on the cake it's because I wanted some nice uniform-ish swirls.
Hope you enjoy!