I loved creamsicles as a kid!!! I made an orange curd filling, an orange cake and Italian buttercream for the outside. Not gonna lie… the cake was a bit unstable when I was assembling it BUT it all came together as soon as the crumb coat set in the fridge 
 I was worried about the decoration too, as I've been so addicted to drip cakes! I piped my version of ombré swirls for the top — popped them in the freezer for a bit to set — then placed them on. I think the end result is simple but elegant. Do you like it? How would you put your own twist on it? 
Print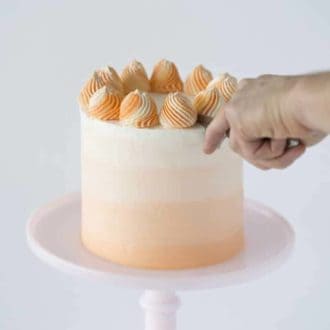 Creamsicle Cake
Tastier than it looks; if you can believe it!
Total Time
1
hour
2
minutes
Ingredients
For the Filling:
2/3

cup

sugar

2

TBS

all-purpose flour

1

TBS

corn starch

1

cup

fresh orange juice without pulp

(from about 3 large or 4 medium oranges)

2

large

egg yolks

2

TBS

salted butter
For the Cake:
2 1/4

cups

all-purpose flour

(101/8 oz.)

2 1/2

tsps

baking powder

1

tsp

salt

1/3

cup

salted butter

1/3

cup

sour cream

4

tsps

grated orange zest

from about 2 large oranges

1 1/2

cups

sugar

3

large

eggs

1

cup

strained fresh orange juice

(you can add the juice of a lemon if you'd like some more zing)
For the Italian Buttercream:
4

large

egg whites

1 1/2

cups

sugar

1/3

cup

water

1

pinch

kosher salt

16

ounces

unsalted butter

(32 tablespoons) room temperature cut into 1-inch pieces

1

tsp

pure vanilla extract

3

drops

orange food coloring
Instructions
For the Filling
Whisk together sugar, cornstarch and the flour in a heavy-based saucepan.

Add the orange juice and egg yolks and whisk to combine.


Put the saucepan over medium-high heat and cook, whisking constantly until the mixture boils.


Cook while stirring constantly, the mixture will become thicker and clearer.


Allow mixture to boil for 1 minute.


Remove from the heat and stir in the butter.


Transfer to a bowl, cover surface with plastic wrap and chill.

For the Cake:
Preheat the oven to 350°F. Butter and flour 4 six inch cake pans


Sift together the flour, baking powder, and salt.

Cream together the butter, sour cream, and orange zest.


Slowly add the sugar, mixing until the mixture is light and fluffy. Scrape down the sides of the bowl. Add the eggs, one at a time, mixing well between additions and scraping down the sides.


Add the sifted dry ingredients alternately with the orange juice to the creamed mixture, beating well on low speed after each addition. Pour equal amounts of the batter into the two prepared cake pans. (I also use cake strips on my pans for more even baking.) Bake until a toothpick inserted in the middle comes out clean, about 22 min. Cool the cake layers in the pans for 10 min. and then loosen the layers by running a knife between the cake and the edge of the pan. Remove the layers from the pans and put them on a rack to continue cooling.

For the Buttercream:
Beat the egg whites and 1/3 cup of sugar until soft peaks form.

In a medium saucepan add the remaining sugar and 1/3 cup water then place on low heat.


Stir constantly until sugar melts and becomes clear.


Maintain at medium high heat until temperature reads 235-240F.


Drizzle the sugar into the mixer immediately.


Run mixer until meringue is body temperature. Add salt.


Add room temperature butter into running mixer one piece at a time. Add vanilla


Beat until butter is combined and mixture has reached a silky consistency.


I used an 869 tip to pipe the dollops, froze them, and then placed them on top. I divided my buttercream into several batches and added varying amounts of food coloring to create an ombre effect.

Nutrition Facts
Creamsicle Cake
Amount Per Serving
Calories 136
* Percent Daily Values are based on a 2000 calorie diet.