This tart was a fun one! I LOVED the white chocolate strawberry mousse inside and that cake was a nice texture to complement the crunch of the tart and creaminess of the mousse.
It's probably a bit unrealistic to expect most people to make the two-tone tart shell with that wave pattern BUT the tart would really be just as pretty with a stripe of contrasting color or just all pink!
If you like tarts check these out!
Chocolate tart with a toasted meringue swirl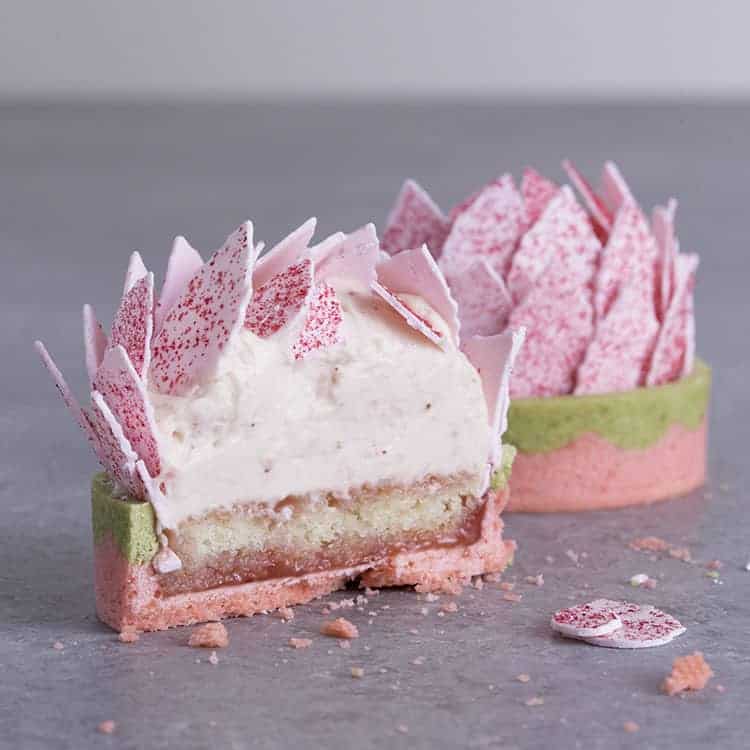 WHAT TOOLS HELP MAKE THESE TARTS?
You'll want to buy some perforated tart rings. They are a bit pricey but they work SO well and last forever! These are the magic tart tings I used to bake the shells, I've started collecting them in all sorts of shapes and sized and I'm loving them.
I used these silicone molds for my domes. They're surprisingly handy and perfect for Baked Alaskas too!
Baking on a perforated silicone sheet can give you a perfectly baked base with no bubbling. The steam that forms underneath can escape through the side so no docking is needed!
PRO TIPS FOR MAKE THIS TART
Make sure to freeze the tart shells completely before baking.
The best bake will be achieved with a perforated silicone mat and a perforated tart ring.
You can use warmed and strained strawberry jam instead of the reduction if you'd like a shortcut!
Chill that dough if it becomes unmanageable!
Don't be afraid to make these in stages. You can make the dough one day, do the cutting and baking the next and then assemble with filling when you're ready to serve.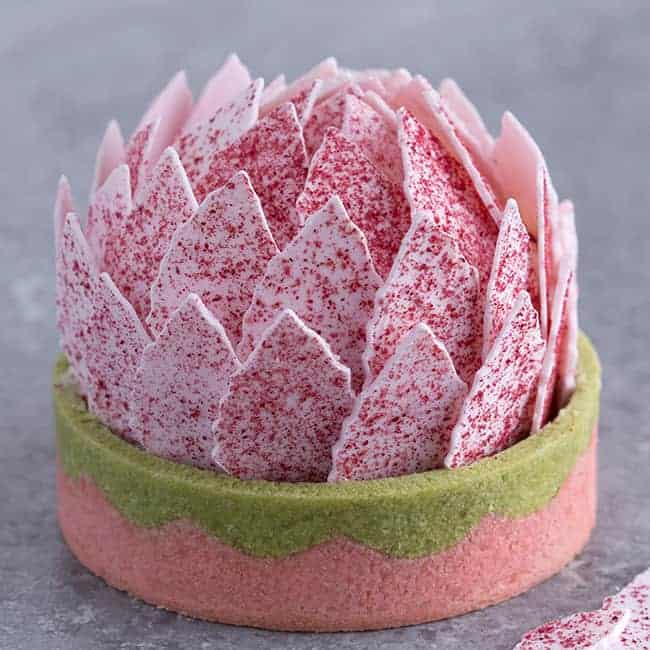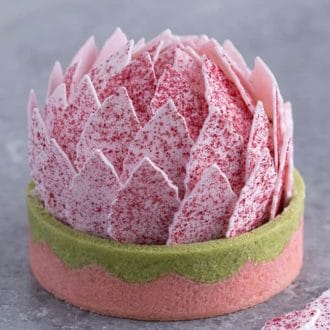 Print
Flowering Strawberry Tart
This stunning and delicious strawberry tart has a two-tone shall, a white chocolate strawberry mousse and it's all crowned with pink petals dusted in strawberry powder.
Ingredients
Matcha Tart Shell
80

g

confectioners sugar

3

egg yolks

1

tsp

vanilla extract

5mL

1/2

lb

all-purpose flour 225g

1/2

cup

unsalted butter 113g

cool & cubed

¼

tsp

salt 1g

1

tbsp

matcha powder
Pink Tart Shell
80

g

confectioners sugar

3

egg Yolks

1

tsp

vanilla extract

5mL

1/2

lb

plain flour 215g

1/2

cup

unsalted butter 113g

cool & cubed

2

tbsoq

powdered strawberries

¼

tsp

salt 1g

3

drops

soft pink food coloring

2

tsp

powdered strawberries

optional
White Chocolate Strawberry Mousse
8

oz

White chocolate

3

egg yolks

3

tbsp

sugar

1 1/4

cup

Heavy cream 110g

heated
Strawberry Reduction
32

strawberries

hulled and sliced

2

tbsp

lemon juice

15mL

1/4

cup

sugar
For the Petals
2

cups

white candy melts

3

tbsp

powdered strawberries

2

drops

soft pink food coloring
Instructions
For the Tart Shell:
You're making two batches of pastry, one matcha and one pink. Later on they will be laminated together.
For the Strawberry Dough:
Add the icing sugar, butter, vanilla & salt in the bowl of a stand mixer. You can also use a hand mixer.

Beat the mixture on a medium speed for 2 minutes until it forms a paste. Scrape down the bowl after 1 minute.

Add in the egg yolks and mix until fully incorporated.

Add in the flour, and mix on low speed until it is just combined. You want the mixture to have JUST come together.

Transfer the dough on a lightly floured piece of parchment paper. Add a second piece of parchment paper dusted with flour on top. Press down and then roll out to 1/8 an inch or 3mm.

Transfer to fridge to chill for at least 30 minutes.
For the Pink Dough
For the second batch, repeat the above steps. Just sift the strawberry powder in with the confectioners' sugar at the beginning. To make strawberry powder just grind up freeze dried strawberries and sift. I put them in a bag and smash with a rolling pin.

Cut dough into 1/4 inch strips.

On a separate piece of parchment paper alternate the pink and green strips making sure to press them together a bit as you go. Once finished place a second piece of parchment paper on top and roll together firmly.

Place the whole sheet of pastry dough in the fridge for at least 30 minutes.

You should have enough dough for two batches so repeat the process with the rest of your strips.

Once the dough has chilled, remove one sheet from the fridge. Peel off the top sheet of parchment paper, very lightly flour the pastry, then flip it over.

Peel off the remaining sheet of parchment paper, lightly flour the dough again to prevent it from sticking.

Using an circle-shaped perforated tart ring (or any tart ring you have) cut out 6 tart bases.

Remove the second sheet of dough from fridge. Using a sharp knife, cut long strips of dough about 7-8" long and ¾" wide. I used a stencil to cut a wave shape that I used to create a two-tone tart but you can just use one color or do some stripes.

CAREFULLY lift the strips you've made and place them on the inside of the tart rings. Press them against the side so they line up with the dough at the bottom. This is the most difficult part so try not to get impatient. you might need to piece the dough together in the tart ring.

Press the bottom of the dough gently with your fingers to mold it to the base of the dough.

Cut off any excess pastry hanging over the top of the tart rings with a sharp knife.

Place the tart shells into the freezer for 30 minutes to 1 hour.

Pre-heat your oven to 320F. Place the tray with your tart shells in the oven. Bake for 15 minutes or until the shell is almost lightly golden. A longer bake time will give you a crisper shell but the color will not be as nice.

Remove tart shells from the oven and allow time to cool before piping so the filling does not melt.
For the Strawberry Reduction
Add the sliced strawberries, sugar, lemon juice and optional corn syrup to a small pot over medium heat. Mash and reduce to a simmer.

Allow to reduce by about half. Strain into a bowl, cover and chill.
For the White Chocolate Mousse:
Melt chocolate and 1/4 cup cream in a double boiler over low heat, transfer to a room temperature bowl remove once melted.

Whisk together egg yolks and sugar until light in color. Place in a small pot on medium low heat and whisk continuously until thickened.

Whisk the custard into the white chocolate.

Whip the remaining 1 cup of cream until thick and then fold into the mousse. Fold in a desired amount of the reduction. I would do this to taste.

Pipe mousse into silicone dome molds and place in freezer.
For the petals
Melt candy melts in the microwave, mix in pink coloring and spread out onto a sheet of parchment paper with an offset spatula. Use a sifter to dust a light layer of strawberry powder onto the candy melt.

Once cooled use heated leaf or petal cutters to cut the candy melt. A palette knife can be used to remove them.
For the Assembly
Once your tart shells have cooled, add a thin layer of the strawberry reduction.

Cut 1/2 inch thick slices of cake and then cut circles out just smaller than the tart. Place the cake rounds in the tart.

Spread some more strawberry reduction onto the cake.

Remove frozen mousse domes from mold and place onto tart.

Add overlapping petals all over the dome.
Video
Notes
Make sure to freeze the tart shells completely before baking.
The best bake will be achieved with a perforated silicone mat and a perforated tart ring.
If you can't find strawberry powder just crush freeze dried strawberries in a plastic bag and sift.
I actually used my favorite vanilla cake recipe for the cake inside the tart but you can use store-bought poundcake to save time!
Nutrition
Serving:
1
tart
|
Calories:
768
kcal
|
Carbohydrates:
49
g
|
Protein:
5.6
g
|
Fat:
28
g
|
Saturated Fat:
16
g
|
Cholesterol:
19
mg
|
Sodium:
212
mg
|
Potassium:
82
mg
|
Fiber:
2
g
|
Sugar:
28
g
|
Calcium:
20
mg
|
Iron:
0.9
mg
*
Nutrition Disclaimer