What could be better than this delicious, apple tart? A cute one! These mini tarts are NOT difficult to make. I will say — however — that the technique will make a great impression on your guests…. the taste will help too. Yum!

Print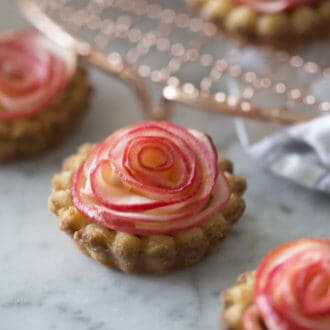 Rose Apple Mini Tarts
A traditional dessert with a creative twist.
Ingredients
For the Filling:
9

tbs 

of melted butter

1

cup

of sugar

1

tsp

Vanilla

1

large lemon

1/2

tsp

of cinnamon

5 Apples
For the Pastry Dough:
3

cups

flour

1.5

sticks

nsalted butter

1/3

cup

vegetable shortening

1

tbs

sugar

1

tsp

salt
Nutrition Facts
Rose Apple Mini Tarts
Amount Per Serving
Calories 123
* Percent Daily Values are based on a 2000 calorie diet.
Click here for a step-by-step on making pastry dough.
Roll your chilled dough out on a well floured surface.
Cut out for your form. I'm using a nifty set from Sur la Table.
I wanted to try out a couple different sizes so here we have mini and medium sized tarts ready to go. I blind baked the empty shells at 425F for 10 minutes after tapping them with a fork and filling with beans over parchment paper.
You can use a mandolin but for best results cut those sliced at thinly as possible by hand.
For the filling add 1/2 stick of melted butter, 1/3 cup of sugar, 1 teaspoon Vanilla and a 1/2 teaspoon of cinnamon together in a bowl and mix well.
Spoon about one to one half tablespoons of the filling into each mini tart.
Toss the sliced apples in a bowl with the juice of a lemon, 3 tablespoons butter and 1/4 cup of sugar. Microwave for about a minute to soften the apples. Allow to cool then roll the slices tightly to form the rose. Place the rose into the filling and adjust petals as needed.
Use the smaller slices for the outside of the rose to get a more open appearance.
For larger tarts the technique is the same.
Bake at 350F for about 20 minutes allow to cool and enjoy!