I have two favorite soups: avgolemono and curried butternut squash soup with coconut milk. My mom once went ALL OUT and made a version of this soup. She served it in bowls, made from small pumpkins she hollowed out. To this day, I think of that soup. It's credit to the power of presentation… Anyhow, when I found these cute pumpkin shaped bowls I immediately thought of this soup and bought several with no place to store them… Worth it.
I love the play of sweet and savory with a hint of heat from the pepper, ginger, and curry. It takes a while for the squash to roast but you can do a lot of the prep work and can sauté while it's in the oven. The best part is the ease with which you can scoop the squash out after roasting, as opposed to trying to peel and cut them raw. Actually… the best part is having leftovers the next day! The toasted pumpkin seeds add A LOT — in terms of flavor — to the soup. Garnish liberally.
This recipe used one and a half butternut squashes. I kept the extra half in the refrigerator after roasting and had a side dish readymade for dinner the next day! But you could easily just add it to your soup and increase the chicken stock to maintain the right consistency. Also, cutting a giant squash can be tough, I microwave mine for 2 minutes to soften them up, just rotate half way through.
You'll know the squash is done roasting when you can easily cut through the flesh.
Print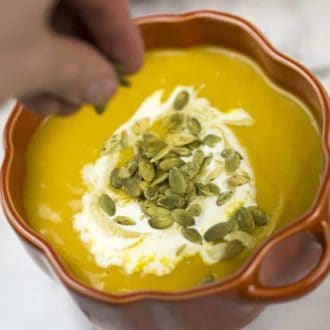 Butternut Squash Soup
A delicious curried coconut butternut squash soup makes a great addition to any meal on a cool night.
Cook Time
1
hour
30
minutes
Total Time
1
hour
40
minutes
Ingredients
1 1/2

whole

butternut squash

14

oz

light coconut milk

2 1/2

cups

chicken stock

with more as needed

1

whole

apple

diced

1

medium

onion

diced

3

tbsp

garlic

minced

1/2

tsp

ground black pepper

with more to taste

1/2

cup

toasted pumpkin seeds (shelled)

for garnish

1/4

cup

cream

for garnish

1

tbsp

curry powder

plus extra for garnish

1 1/2

tsp

ground ginger

3

tbsp

butter

2 for brushing squash, 1 for sautéing

1

tbsp

coconut oil

1

pinch

allspice
Instructions
Preheat oven to 425 degrees. Cut squash in half and place halves, cut side up, in a foil-lined, shallow baking dish. Brush with butter and season liberally with salt and pepper. Bake for about 50 minutes, until flash can be easily pierced with a knife. Allow to cool on a wire rack then scoop out flesh and set aside.

Heat 1 tbsp of coconut oil and 1 tbsp of butter in a large pot. Add the onion and garlic with some salt and pepper and sauté over medium heat until golden. Don't forget to stir occasionally.

Add the apple, squash, broth and spices. Bring to a simmer, then cover and simmer gently until the apples are tender.

Blend the soup using an immersion blender or be transferring to a blender then back to the pot to simmer on low for an additional 10 minutes.

When ready to serve, transfer to bowls and garnish with cream, pumpkin seeds and curry powder.
Recipe Notes
This recipe can be modified in so many ways. You can add or subtract the amount of squash, apple, onion, etc. You might want to change the spice profile or add more heat for an extra kick. This soup can easily be made in advance and stored for up to 3 days in the refrigerator. 
Nutrition Facts
Butternut Squash Soup
Amount Per Serving
Calories 63
* Percent Daily Values are based on a 2000 calorie diet.
How to Make Butternut Squash Soup
How to Make Butternut Squash Soup
This soup has a great play of sweet and savory with a hint of heat from the pepper, ginger and curry. It takes a while for the squash to roast but you can do a lot o…