OK! I'll admit it… I've been vaguely scared of cooking lobster. I don't want to boil a living one. It seems sad… very sad. I've ordered it a few times and it was overcooked, which is also unfortunate as it's virtually inedible. With little success (until now), I've been chomping at the bit to finally execute a lobster dish! I got some lobster tails from the market — baked them — tossed the meat with butter and lime zest — and made myself some REALLY tasty tacos! Mission accomplished. The best way to face your fear is by facing it head on. ?  What's your favorite lobster dish? I have so many dishes to try now!! 
Print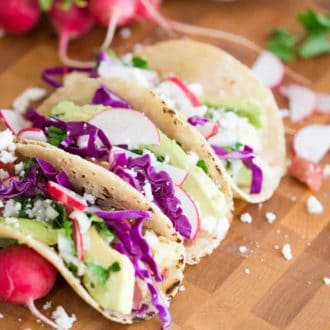 Lobster Tacos
Delicious and refreshing lobster tacos!
Ingredients
INGREDIENTS
1

cup

water

2

lobster tails

Lime zest

3

radishes

sliced

2

avocados

medium

1

red cabbage

sliced

3-5

heirloom tomatoes

chopped

2

oz

queso fresco

crumbled

1

bunch

cilantro

chopped

3

tbsp

butter

unsalted

salt and pepper to taste

1

white onion

small, chopped

4-6

corn tortillas
Instructions
INSTRUCTIONS
Preheat oven to 375F.

Split the lobster tail and remove the meat from the shell. Chop up the meat.

In a baking dish, pour water over the lobster tails. Add salt and pepper to taste. Drizzle 1 tbsp butter over the meat and add the lime zest.

Bake for about 20-25 minutes or until firm.

In a small bowl, add 2 tbsp butter, onion and cilantro.

Chop cilantro, red cabbage, tomatoes and avocado.
For the Assembly:
Add lobster and cilantro mixture to a corn tortilla.

Sprinkle on a desired amount of tomatoes, radishes, queso fresco cheese, sliced avocado and chopped red cabbage to each tortilla.
Nutrition Facts
Lobster Tacos
Amount Per Serving
Calories 410
* Percent Daily Values are based on a 2000 calorie diet.
Ok, so they're a little intimidating but less so when you're just dealing with the tail. You can cut the exoskeleton with a pair of scissors or a sharp knife. Be careful!
Cut the meat into manageable pieces and toss with butter and lime zest.
Assemble as you please. The heirloom tomatoes I used look a little less appetizing than hoped but they were tasty 😀
The radishes provided just the right amount of spice. It you want to take it up a notch you can add some jalapeño slices to the mix.
I love the crunch of the cabbage too and the queso fresco and the onion lime mix, and the cilantro. Basically delicious ? Although I know the cilantro is totally not everyone's cup of tea…
Enjoy!
DIY Lobster Tacos
DIY Lobster Tacos
OK, I'll admit it; I've been totally scared of cooking lobster. I don't want to boil a living one, that seems sad, very sad… I've ordered it a few times and it was overcooked, which…