My husband rarely indulges in a cocktail BUT when he does, his go-to is a Manhattan. I never even had one before meeting him! Now, they've secured a spot in my beverage rotation. Incidentally, the first time I had a Manhattan was in MANHATTAN ? How do you like that? There are only four ingredients and they work well in unison to highlight the bourbon flavor. I've said it before so I'll say it again…  if you're going to put cherries in a drink they should probably be Luxardo!! They taste AMAZING and ARE NOT that ARTIFICIAL shade of red. What's your go-to bourbon? I enjoy Knob Creek but there are so many good brands out there. Any suggestions?? Ready to get started? This drink is not complicated. You'll be done in a snap!
You can use a jigger or just pour the desired amount of bourbon LOL
I always say yes to bitters, they add a depth of flavor but don't have all the sugar so many other mixers do.
No need for a shaker on this drink, just a nice stir with a swizzle stick. You don't want to agitate the drink too much.  
Ready to be enjoyed. I love the cherry at the bottom, it's like a extra special treat at the end of a long day.
Print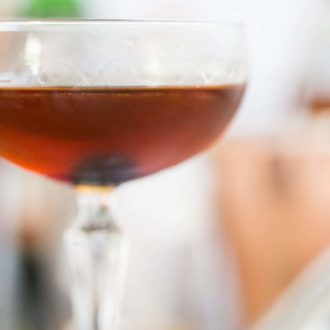 Manhattan
There's a reason classics never go out of style.
Ingredients
1 1/2

oz

good bourbon

3/4

oz

sweet vermouth

3

dashes

bitters

1

Luxardo cherry
Instructions
Pour bourbon, then vermouth and bitters over the ice.

Mix well with a swizzle stick then strain into a cocktail glass. Finish with a cherry.
Nutrition Facts
Manhattan
Amount Per Serving
Calories 187
* Percent Daily Values are based on a 2000 calorie diet.
DIY Manhattan
DIY Manhattan
My husband rarely indulges in a cocktail but when he does his go to is a Manhattan. I had never even had one before meeting him but now they're firmly in my rotation. Instdentally the f…