My ALL TIME favorite drink is an old fashioned cocktail. It's the alcoholic equivalent to pizza! A not so guilty pleasure?  When it's done right it's amazing! When it's done poorly, it's not all that bad, either. I will, of course, be making mine correctly with this old fashioned recipe honed over many evenings. Here we have a flamed orange peel, bitters on a sugar cube, bourbon and a very nice cherry to add a bit of sweetness to the delicious drink. Is it strong? Very! But it's Friday and it's time to treat yourself! Are you pro or anti cherry? It can be a bit controversial…
 What is the difference between Manhattan and Old Fashioned?
The main difference between a manhattan and an old fashioned is the sweetener used. A Manhattan uses sweet vermouth, a type of fortified wine, while an old fashioned uses a cube of sugar. An old fashioned will have a few dashes of aromatic bitters and is usually garnished with an orange peel, while a Manhattan gets a cherry.
Why is an old fashioned called an old fashioned?
An old fashioned is related to the first cocktails from the early 1800's, which had a spirit mixed with bitters, sugar and water. They were superseded by more elaborate cocktails but came back into fashion in the 1860's, this time being referred to as old fashioned because they had fallen out of favor for a few decades.
How to Make an Old Fashioned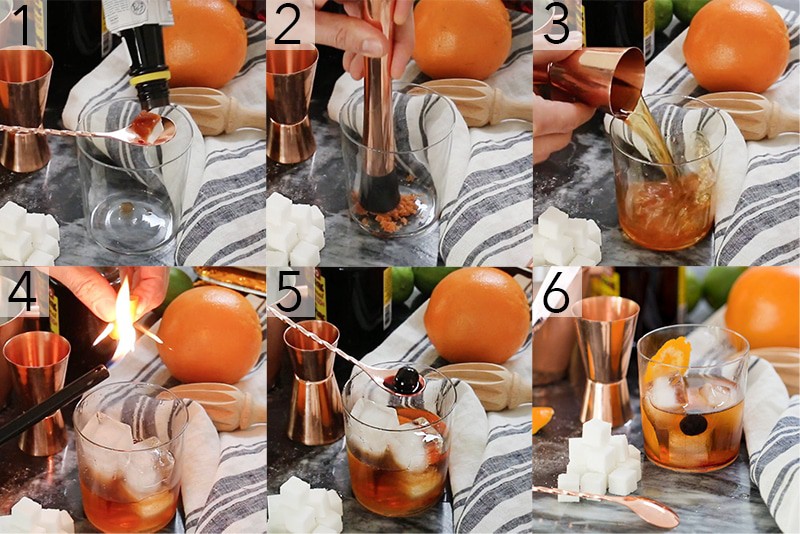 How Do You Make An Old Fashioned?
Take the sugar cube, place it in a spoon over the glass and saturate it with bitters.
Drop the saturated sugar cube into the glass and muddle it or crush it up with a spoon to help the sugar dissolve more easily.
Add 1 1/2 oz of bourbon and ice then stir it well. Now cut a one inch circle out of an orange peel.
Using a match or a lighter, warm the orange peel up then squeeze it while holding it at a 45 degree angle over the glass. Wipe the peel on the rim of the glass then drop it in.
Add a cherry and 3/4 oz of bourbon then give it a final stir. (I know adding a cherry is not for everyone but these Luxardo cherries are so so good! It's basically like dessert at the end of a meal).
You may want to add a small spritz of soda as well. Garnish it with a strip of orange peel and enjoy!
If you've tried this old fashioned cocktail then don't forget to rate the recipe and let me know how you got on in the comments below, I love hearing from you!
Print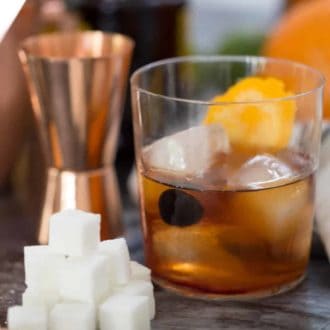 Old Fashioned
This old fashioned is the perfect drink for bourbon lovers.
Ingredients
2 1/4

oz

bourbon

67mL

1

orange peel

1

luxardo cherry

4

dashes

bitters

1

sugar cube
Instructions
Cut a one inch circle of orange peel.

Place a sugar cube in glass and saturate with bitters.

Muddle the sugar cube and then add 1 1/2 oz of bourbon.

Using a match or lighter warm the orange peel up, then squeeze while holding at a 45 degree angle over glass. Wipe peel on rim of glass and drop in.

Add cherry, and 3/4 oz of bourbon and give a final stir. you may add a small spritz of soda as well. Garnish with a strip of orange peel and enjoy!
Recipe Video
Nutrition Facts
Old Fashioned
Amount Per Serving (1 cocktail)
Calories 176
% Daily Value*
Sodium 0.3mg0%
Potassium 1.8mg0%
Carbohydrates 6.7g2%
* Percent Daily Values are based on a 2000 calorie diet.
IF YOU LOVE THIS RECIPE TRY THESE OUT!