My ALL TIME favorite drink is an old fashioned. It's the alcoholic equivalent to pizza! A not so guilty pleasure.?  When it's done right it's amazing! When it's done poorly, it's  not all that bad, either. I will, of course, be making mine correctly. Here we have a flamed orange peel, bitters on a sugar cube, bourbon and a very nice cherry to add a bit of sweetness to the delicious drink. ????  Is it strong? Very! But it's Friday and it's time to treat yourself! Are you pro cherry or anti? It can be a bit controversial. ?
Saturate the sugar cube with bitters.
Give it a good muddle. This will help the sugar to dissolve more easily.
A healthy pour of your favorite bourbon 🙂
Flaming the orange peel adds a depth of flavor that really compliments the bourbon.
I add a cherry to mine, I know it's not for everyone but these Luxardo cherries are so so good! It's basically like dessert at the end of a meal 😉
Print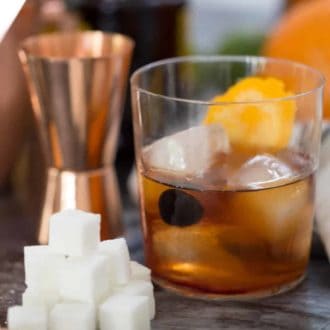 Old Fashioned
A perfect drink for bourbon lovers.
Ingredients
2 1/4

oz

bourbon

1

orange peel

1

luxardo cherry

4

dashes

bitters

1

sugar cube
Instructions
Cut a one inch circle of orange peel.

Place a sugar cube in glass and saturate with bitters.

Muddle the sugar cube and then add 1 1/2 oz of bourbon.

Using a match or lighter warm the orange peel up, then squeeze while holding at a 45 degree angle over glass. Wipe peel on rim of glass and drop in.

Add cherry, and 3/4 oz of bourbon and give a final stir. you may add a small spritz of soda as well. Garnish with a strip of orange peel and enjoy!
Nutrition Facts
Old Fashioned
Amount Per Serving
Calories 188
* Percent Daily Values are based on a 2000 calorie diet.
DIY Old Fashioned
DIY Old Fashioned
Cheers to the weekend!!! And a 3-day weekend at that ? My all time favorite drink is an old fashioned. It's like alcohol version of pizza. When it's done right it's amazing, then it'…