Is it just me, or do plans rarely ever come to fruition? At first, I wanted to make a chocolate pear tart. I had it all planned out. I had the ingredients and all that jazz, but JUST when I started to make them I felt like baking a chocolate pear cake, instead! I imagined that the pears, chocolate, and buttercream would pair together well and OMG… they did!!
About the Mascarpone Buttercream
Recently, I made a berry cake with a mascarpone whipped cream filling. It was beyond addictive as I LOVE mascarpone. It inspired me to do something similar for this cake.

I whipped up a mascarpone buttercream flavored with brandy and reduced poaching liquid, from the pears.

Did I mention that I poached the pears with brandy? Anyhow, this buttercream is lighter and less sweet than the regular version. As a result, the chocolate and pears really are pronounced. We aren't done yet! The cake is drenched in chocolate ganache and topped with a pear glaze made from the poaching liquid.
If you find cake decorating to be a bit intimidating then check out my How to Decorate a Cake post, it has lots of helpful tips and a full how to video.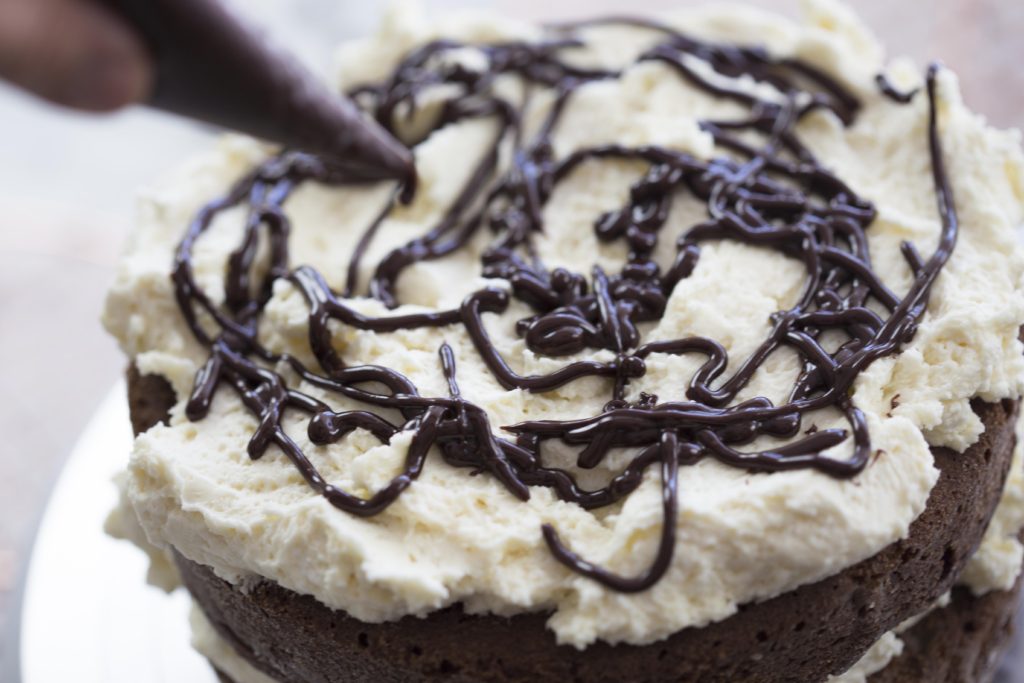 Adding the chocolate ganache between each layer makes a huge difference. It really adds a richness to each bite.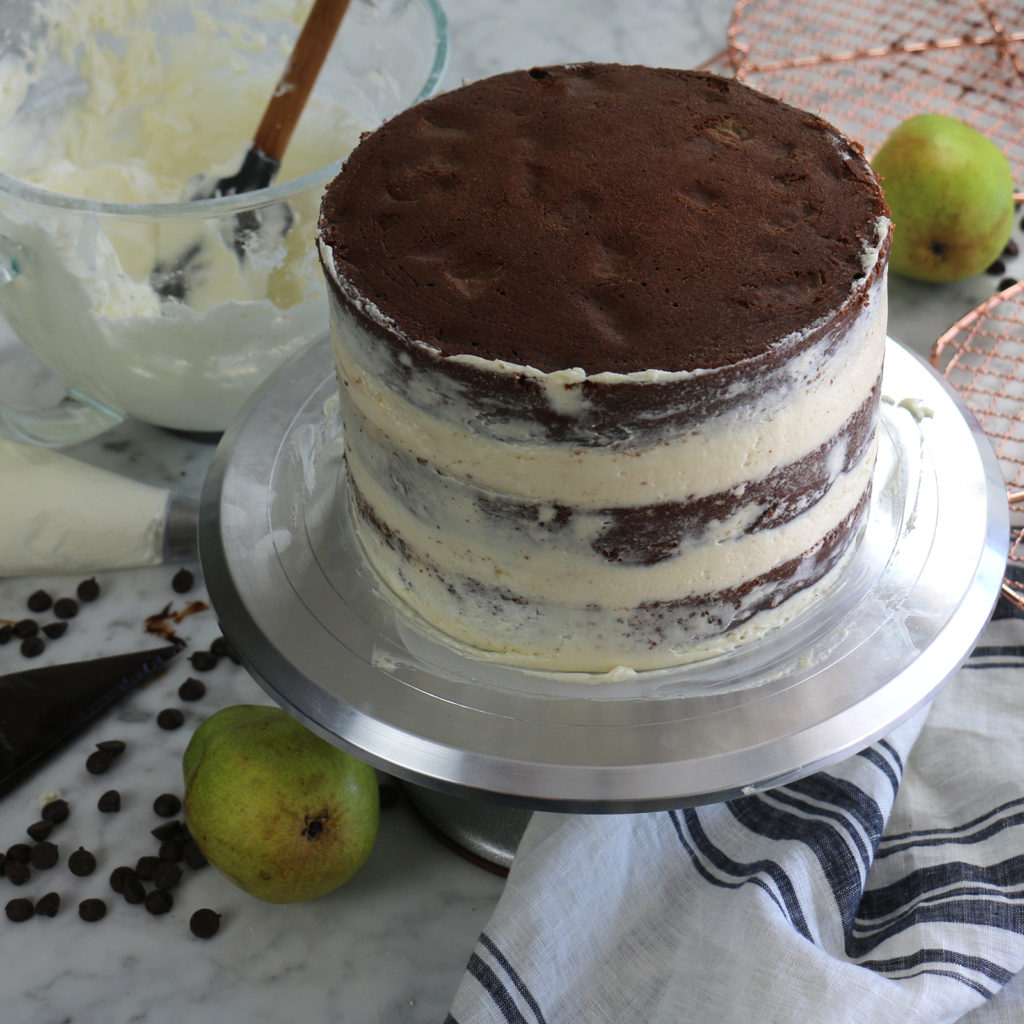 Cake totally delicious at this point, but I had to go full out and add some more buttercream, chocolate and pear glaze!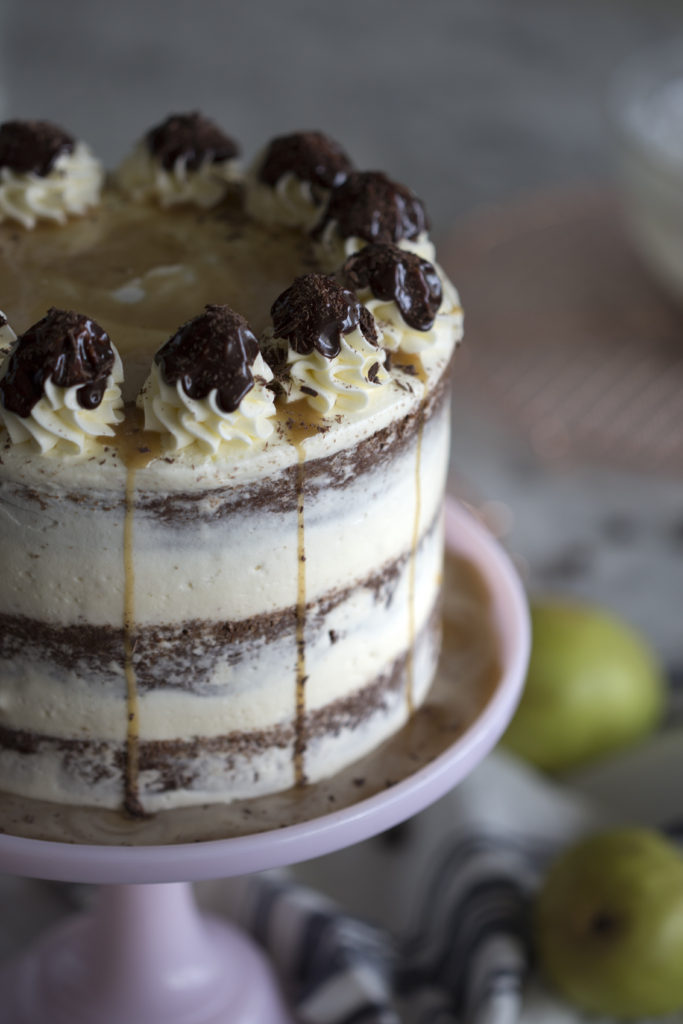 I have to repeat, mascarpone buttercream is amazing! Just make sure not to over-mix it!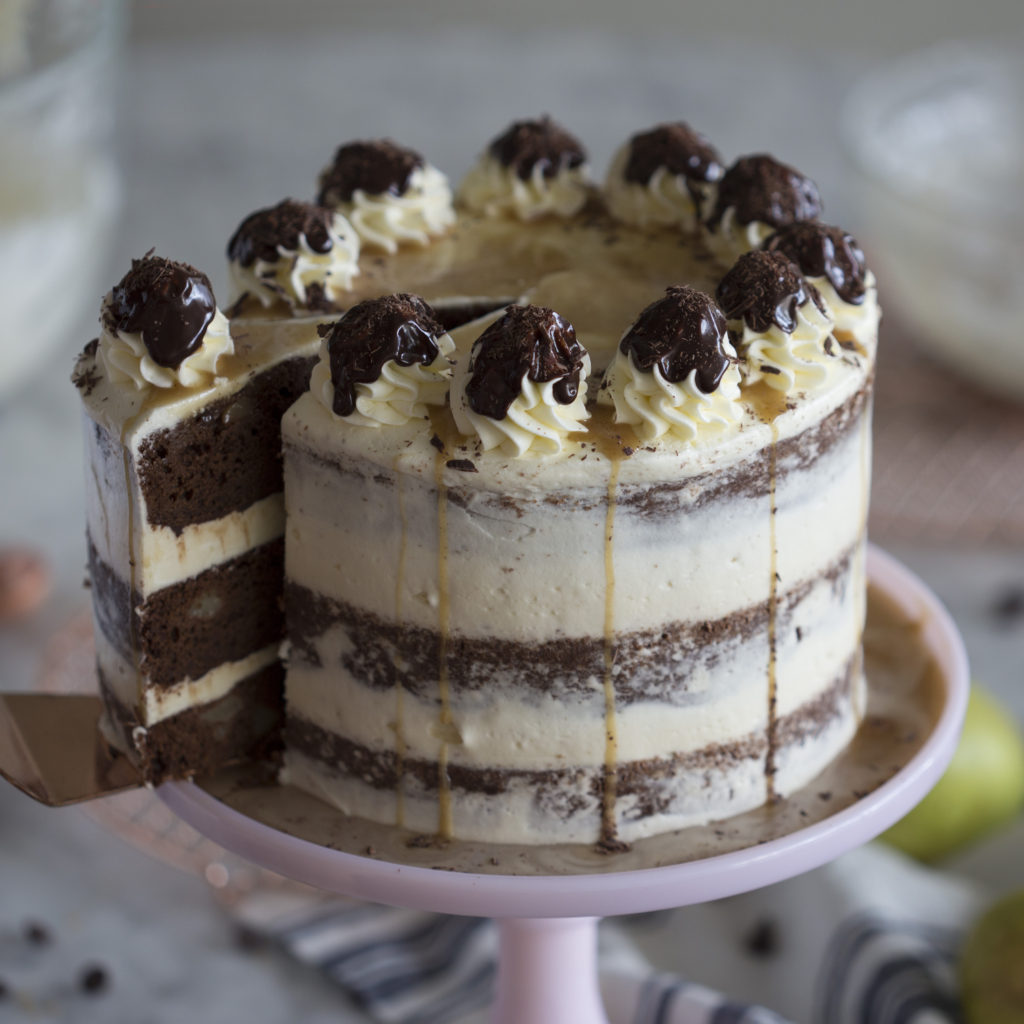 My first but not last piece!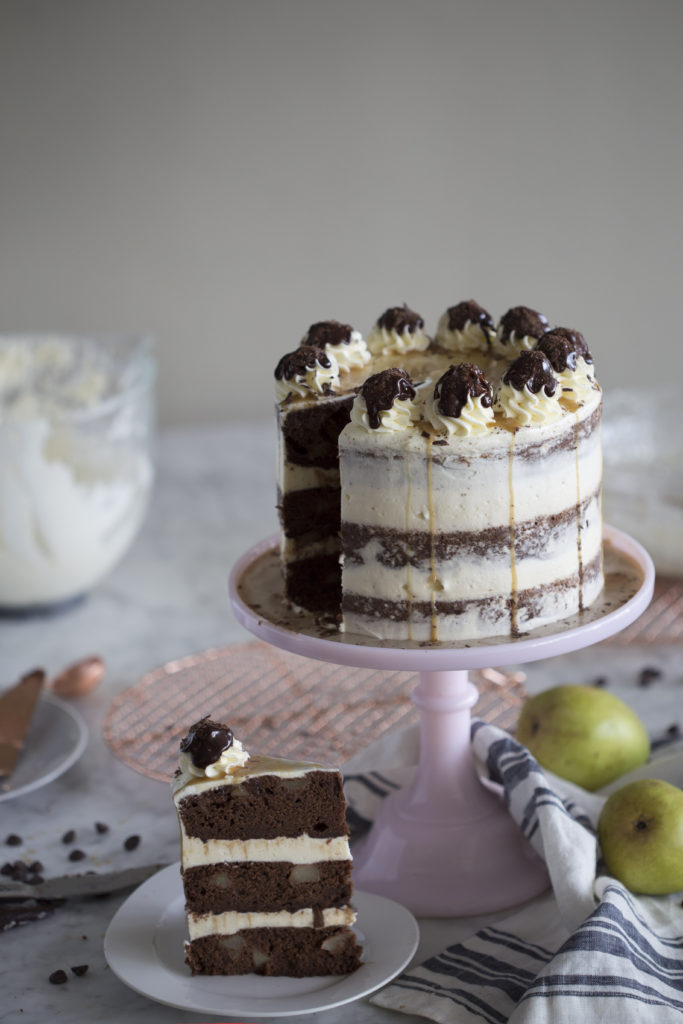 I love those big pear chunks!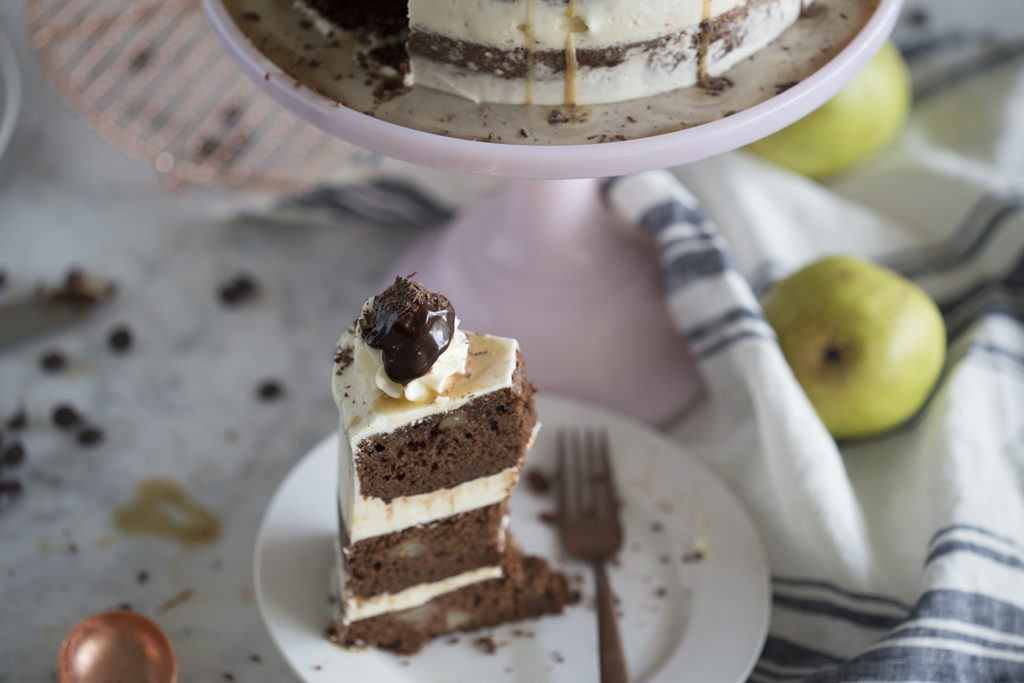 I usually try to eat all my desserts in moderation but I can't say the same for this one. Cheers to my lack of willpower If you've tried this cake then don't forget to rate the recipe and let me know how you got on in the comments below, I love hearing from you!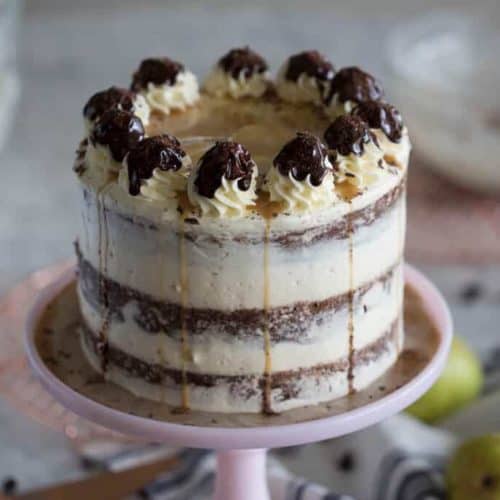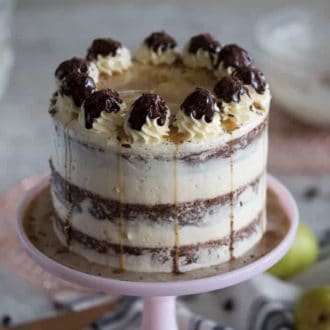 Print
Chocolate Pear Cake
Rich chocolate cake enriched with poached pears smothered in a mascarpone buttercream with a healthy drizzle of chocolate ganache.
Ingredients
For the Poached Pears
4

cups

peeled and diced pears

d'angou

2

cups

water

1/2

tbsp

vanilla extract

1/4

cup

brandy

3/4

cup

brown sugar

2

tbsp

lemon juice

1/4

tsp

cardamom
For the Cake
6

oz

bittersweet chocolate

6

oz

semisweet chocolate

4

oz

butter

3

tsp

baking powder

1/2

tsp

baking soda

2

cups

all-purpose flour

1/2

cup

almond flour

2

tbsp

brandy

1/3

cup

poaching liquid

4

large eggs

1

cup

whole milk yogurt

1 1/3

cup

brown sugar
For the Ganache
1/2

cup

semisweet chocolate

1/4

cup

cream

1

tsp

brandy
For the Buttercream
3

cups

confectioners' sugar

6

sticks

unsalted butter

16

oz

mascarpone

1/4

cup

reduced poaching liquid
Instructions
To Poach the Pears
Add the water, brandy, sugar, vanilla, cardamom and lemon juice to a medium pot and bring to a boil. Add the diced pairs and lower temperature to a simmer. Cook until softened, about 20 minutes, and move the pear pieces to a bowl and allow to cool.

Reserve 1/3 cup of the poaching liquid and bring the rest back to a simmer and cook until reduced by about half. Remove from heat and allow to cool. Reserve 1/4 cup of the reduced liquid for the buttercream and then whisk in confectioners' sugar into the remaining liquid until the desired thickness is reached for a glaze.
For the Cake
Preheat oven to 350F. Butter and flour three 8" pans. I use cake strips to aid in even baking but these are optional.

Melt the chocolate and butter in a small bowl. You can use a double boiler or microwave at half power in 20 second spurts.

Sift the flour, ground almonds, baking powder and soda into a large bowl and whisk together.

In a stand mixer fitted with a whisk attachment add the eggs and sugar and mix on high for several minutes. Add the yogurt and melted chocolate mixture, brandy and 1/3 cup of poaching liquid and beat until well incorporated.

Add the flour mixture and mix on low until just combined. Fold in the poached pears carefully using a spatula.

Distribute the batter evenly to the three pans and bake at 350F for about 25 minutes or until a toothpick inserted in the center comes out clean.
For the Buttercream
Cream the butter until it lightens and changes texture, at least 5 minutes. Beat in the confectioners' sugar. Add the mascarpone cheese and 1/4 cup of the reduced poaching liquid. beat JUST until combined. If you over beat the texture will loose it's silkiness.
For the Ganache
Melt the chocolate, cream and brandy in a double boiler or microwave. Remove from heat and stir until all the chocolate is melted.
For the Assembly
Use a spatula to place a generous amount of buttercream on the first layer. Liberally drizzle the ganache on top and place second layer on top. Repeat steps and cover cake with a thin coat of buttercream. Scrape the vertical side down and pipe dollops on top using an 858 tip. Drizzle some ganache on top of the dollops and top with shaved chocolate. Spoon glaze on the center to form a pool and serve.
Notes
To get FLAT layers that are moist inside and out try using cake strips! You can buy a set online

or make your own from foil and paper towels at home. I made a whole

blog post on it

so check it out if you're interested!

Don't over-whip the mascarpone, it can become grainy.
Nutrition
Serving:
1
piece
|
Calories:
253
kcal
|
Carbohydrates:
40
g
|
Protein:
5
g
|
Fat:
11
g
|
Saturated Fat:
3
g
|
Polyunsaturated Fat:
10
g
|
Cholesterol:
36
mg
|
Sodium:
230
mg
|
Potassium:
54
mg
|
Fiber:
1
g
|
Sugar:
35
g
|
Vitamin A:
50
IU
|
Calcium:
30
mg
|
Iron:
0.7
mg
*
Nutrition Disclaimer
IF YOU LOVE THIS RECIPE TRY THESE OUT!
Lemon Lavender Poppy Seed Pound Cake