Do you ever just want a bite or two of something sweet and or chocolatey, to satisfy a craving? I don't always have a slice of cake at the ready — shocking considering how much I bake — so I decided to whip up some truffles. Since the weather is cooling down a bit, I used a drop (1/4 cup) of brandy helps to warm things up.  I finished them off with a quick roll in the toasted coconut, pecan, and cocoa powder. Sooooo GOOD! Does anyone else remember those little chocolates in the shape of liquor bottles? Not sure if I should have had those as a kid, but I guess the 80's were a different time  Enjoy this adult version of that.
Print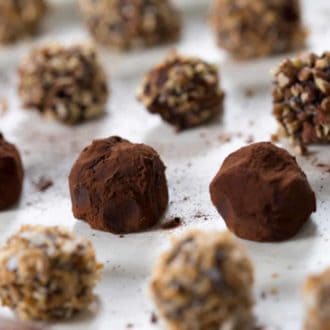 Brandied Chocolate Truffles
Delicious no bake chocolate truffles with a hint of brandy, rolled in toasted coconut, Cocoa powder and toasted pecans.
Ingredients
12

oz

semi-sweet chocolate

1/4

cup

brandy

1/2

cup

heavy cream

1

tbsp

light corn syrup

3

tbsp

unsalted butter

1/2

cup

sweetened shredded coconut

toasted

1/2

cup

unsweetened cocoa powder

1/2

cup

chopped pecans

toasted
Instructions
Add the chocolate and butter to a medium-sized bowl. Microwave at 60% power in three thirty second bursts. Cover and set aside.

Add the cream and corn syrup to a small sauce pan and heat until it simmers.

Pour the cream onto the chocolate, sover and let stand for about three minutes. Slowly whisk together until all the chocolate is melted

Pour in the brandy and whisk together until fully combined.

Pour into a cake pan or small baking dish and refrigerate for about an hour.

Use a teaspoon to scoop the chocolate mixture into balls. Place on a sheet or parchment paper. you can round the balls out by giving them a quick roll in your palms if desired.

Cover the truffles in the coaring of your choice. Store in the freezer or refrigerator and serve cold.
Nutrition Facts
Brandied Chocolate Truffles
Amount Per Serving
Calories 183
* Percent Daily Values are based on a 2000 calorie diet.
I thought the toasted coconut would be my favorite but pecans were soooo good they took the lead. Mind you mixing pecans, coconut and some cocoa together might just make the perfect truffle…
At first I had imagined perfect spheres of chocolate for my truffles but these more "rustic" blobs had an appeal of their own.
Once you roll the truffles in the pecans or coconut they end up rounder.
Those truffles are calling my name! I've kept a stash in the freezer and they make a perfect treat!
I did some searching and this is how I remember those little chocolate liquor bottles. I can almost remember that plastic wooden crate they came in. Might need to make an online purchace…
How to Make Chocolate Truffles