I think that rich egg breads are a common thread linking many cultures. The Greek version is called Tsoureki and it's amazing! The traditional recipe calls for somewhat difficult to find spices mahlepi and mastic but I used anise and loved it all the same. I love how much fragrance the orange zest gives the bread. When it comes to actually baking the bread I recommend tenting the edges with tin foil. This bread is prone to singeing at the edges, especially if you try placing two braids on the same baking sheet (don't do that), so baby it in the oven and rotate the baking sheet/keep an eye out for any premature darkening that needs to be covered with foil.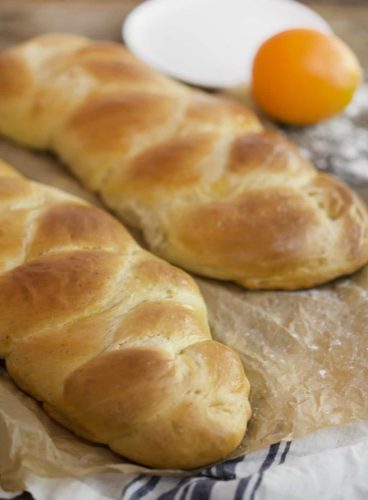 Greek Braided Bread
Course
Appetizer, Side Dish, Snack
Traditional Greek Easter bread with hints of orange zest!
Ingredients
For the Bread:
2

cups

milk

2

envelopes active dry yeast

8 - 9

cups

all-purpose flour

1 ¾

cups

sugar

1/2

cup

almond meal

(optional)

1

teaspoon

salt

1

tablespoon

orange zest

2

teaspoons

finely ground anise seed

1/4

cup

butter

melted

5

eggs

very well beaten

1/4

teaspoon

cardamom
For the Glaze:
1

egg yolk

2

tablespoons

cream
Instructions
For the Bread:
Pour warmed milk into a bowl. Mix in 1 yeast packet, 1 cup flour and ¼ cup sugar. Let the mixture proof for an hour.

Add 7 cups flour, ground almonds, salt, orange zest, ground aniseed, cardamon and the rest of the sugar.

Create a well. Combine 1 packet of yeast eggs and melted butter. Work from the center to the outside until dough forms.

Use flour to dust a workspace. Knead the dough until it doesn't stick to your hands and fingers. This may take about 10 - 15 minutes.

Oil a bowl. Place dough and cover with cloth. Let the dough rise for about 2 hours in a warm, draftless place. Punch the dough down. It should have doubled in size.

Evenly divide dough into 6 balls. Roll out into strips.

Connect three strips by pinching the top. Braid the strips, then pinch the bottom to reconnect.

Follow the same steps to make your second braided loaf.

If you want this to be a traditional Greek Easter Bread, add 2 red-dyed eggs into the braids.

Put the dough on parchment paper and cover. Let rise for 2 hours. It will double in size.

Preheat to 360 degrees F.

Place the loaves on the lower rack and bake for 40 - 45 minutes.

Let cool
SaveSave
How to make Greek Braided Bread
How to make Greek Braided Bread
Full recipe: https://preppykitchen.com/tsoureki-greek-braided-bread/
I think that rich egg breads are a common thread linking many cultures. The Greek version is call…