I have to admit a certain weakness for funfetti. I don't know if its because I enjoy handling the rainbow sprinkles when I'm baking the cake or if I just really love all the bright childhood colors… Either way it's a favorite and I wanted to see just how many sprinkles I could pack into a recipe.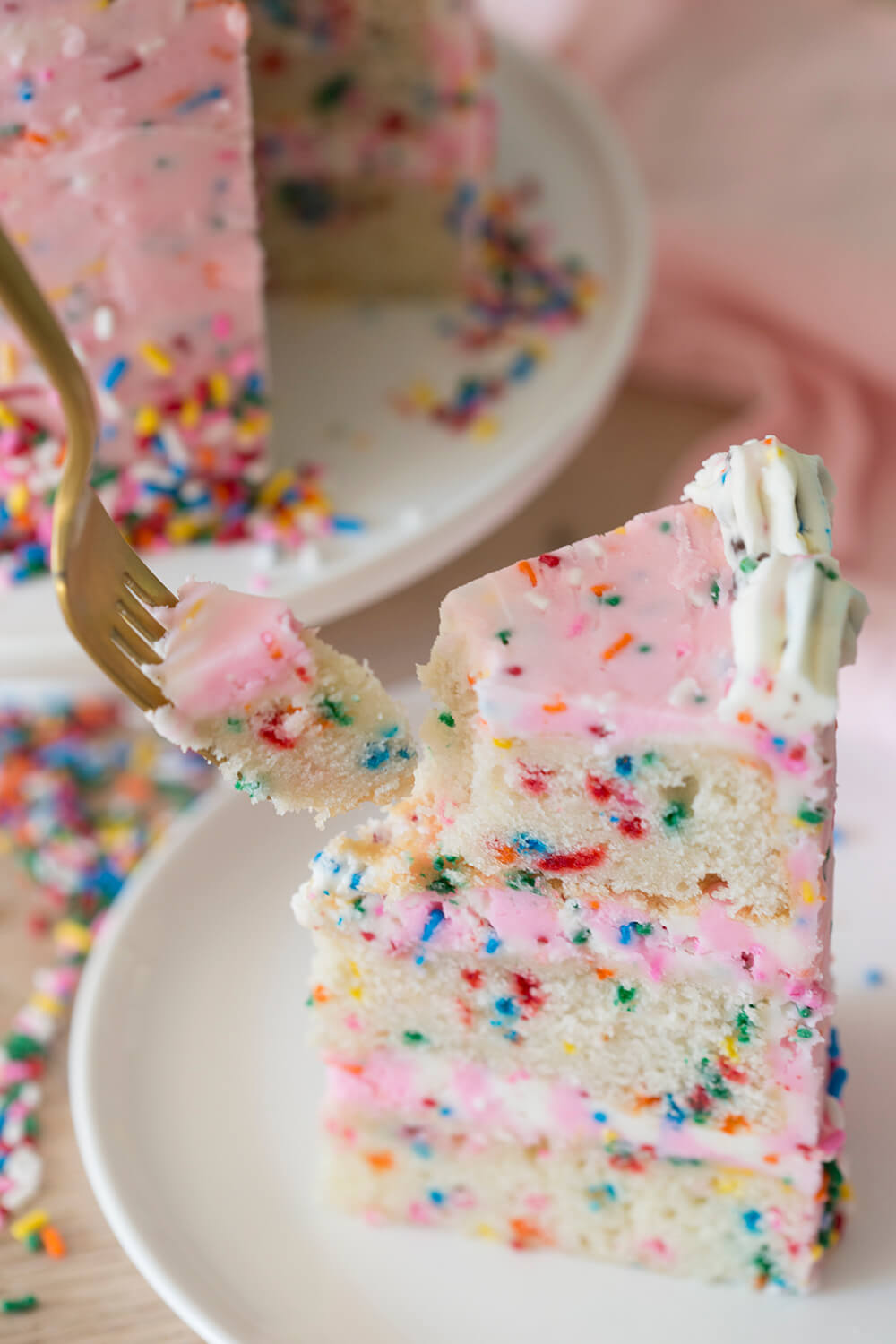 Yes there are sprinkles in the buttercream and yes I am 100% into this.
Print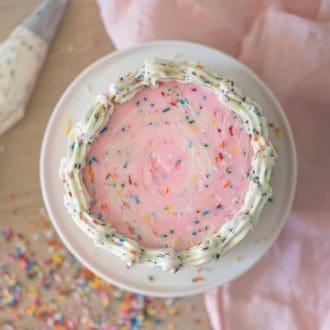 Ultimate Funfetti Cake
Moist vanilla cake with a creamy buttercream makes for the perfect cake!
Total Time
1
hour
10
minutes
Ingredients
For the Cake
1 2/3

cup

all-purpose flour

1

cup

cupsugar

1/4

tsp

baking soda

1

tsp

baking powder

3/4

cup

unsalted butter

room temperature

3

egg whites

3

tsp

vanilla extract

1/2

cup

plain yogurt

1/2

cup

whole milk

1/3

cup

sprinkles
For the Vanilla Buttercream:
1

cup

butter

5

cup

confectioners' sugar

1/4

cup

heavy whipping cream

1/2

drop

soft pink food gel coloring

1/4

cup

sprinkles
Instructions
For the Cake
Butter and flour three six inch pans. I use cake strips on my pans for more even baking as well. Preheat oven to 340F.

Sift the dry ingredients together in a large bowl.

Beat the wet ingredients together in a medium bowl.

Add the wet to the dry and mix until just combined. Fold in the sprinkles at the very end and mix until just combined.

Divide the mixture evenly into the cake pans.

Bake at 340 for about 25-30 minutes or until the centers are springy to the touch.
For the Vanilla Buttercream:
Beat the butter until light and fluffy. Add the confectioners' sugar and cream and mix. Divide into two batches and dye one with the pink food coloring. You will stir in about 1 tbs of sprinkles into the white buttercream and 1/4 cup into the pink buttercream.

Transfer both colors to 2 piping bags. Snip off the tips. Transfer both to one piping bag. Snip off the tip.
For the Assembly:
Pipe buttercream between the cake layers.

Cover the cake with a thin crumb coat and chill for a few minutes.

Once the cake has chilled, pipe buttercream on the outside of the cake. With a steady hand, work your way around the cake until it is completely covered with the buttercream.

Cover the cake with the buttercream and smooth with an offset spatula.

Use the regular buttercream and pipe the pink and white buttercream between each layer. You can get a two-tone effect by filling one bag with white buttercream, one with the pink and then placing both in a third bag.

Lightly press confetti sprinkles on the bottom of the cake and then pipe the white Italian buttercream using an 869 tip.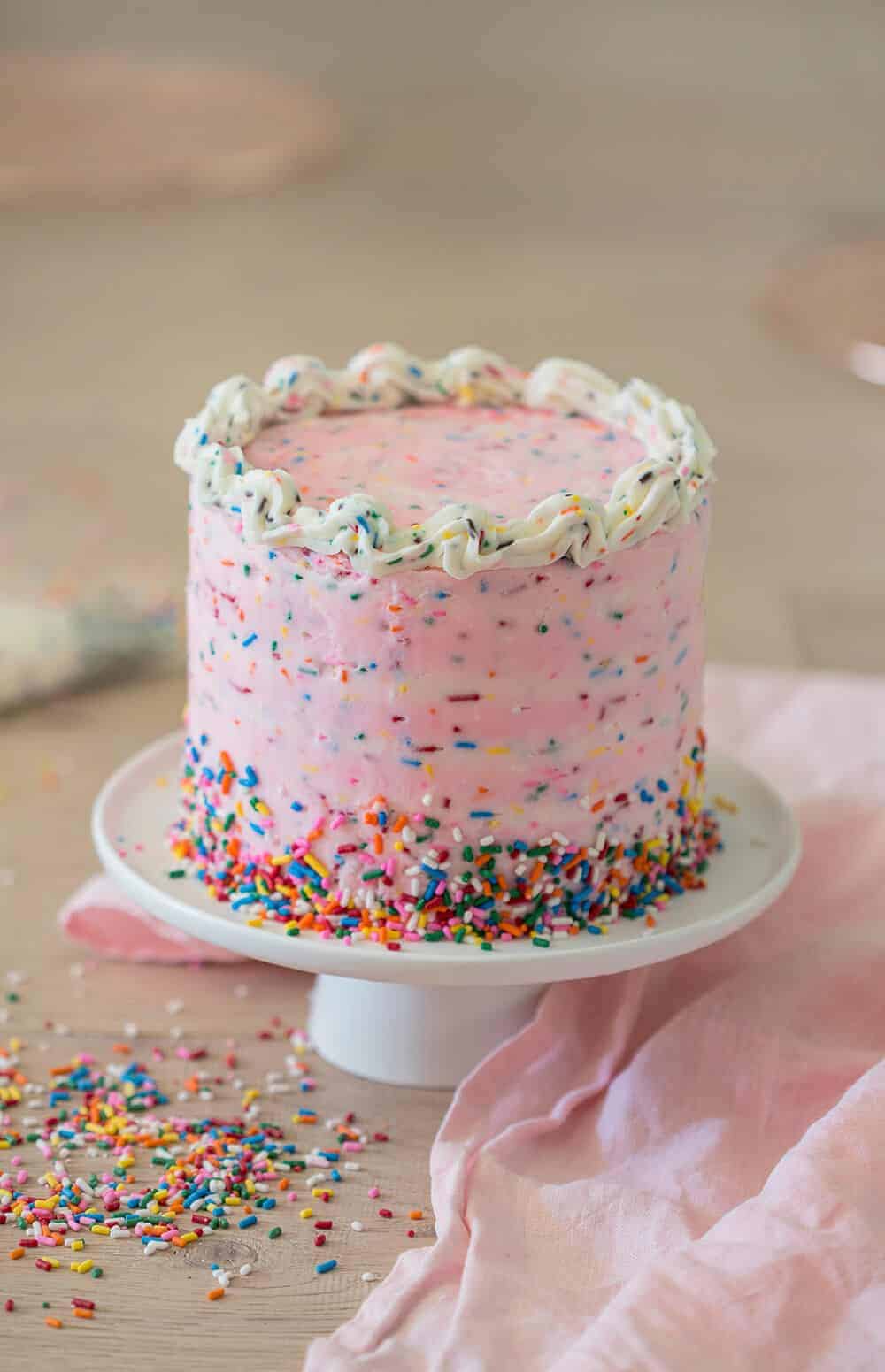 How to Make Funfetti Cake
How to Make Funfetti Cake